Licensing International Expo 2019:
Consolidation, Cannabis, and More
The consolidation among studios', networks', and digital gaming companies' licensing operations into fewer, bigger players was on vivid display at Licensing Expo 2019, held in Las Vegas June 4-6.
For the first time, all the WarnerMedia-owned licensing entities, Warner Bros., Cartoon Network, and HBO, were sharing booth space, with the various players in discussions about how to maximize synergies between the three going forward after AT&T's acquisition of Time-Warner. Similarly, Nickelodeon, Comedy Central, MTV, and Paramount all shared a booth under the Viacom and Nickelodeon Consumer Products banner, also for the first time, having recently integrated their respective licensing functions. All of Sony's various licensing-related divisions also shared space, namely Sony Pictures Consumer Products, Sony Interactive-Playstation, and Sony Music.
Meanwhile, Twentieth Century Fox's licensing operations have been integrated into Disney Parks, Experiences, and Products. It becomes the latest company to join Lucasfilm, Pixar, and Marvel alongside Disney's core branded properties. All did their Expo business off the show floor, as has been Disney's custom recently.
This is not the first year such consolidation has occurred at Licensing Expo; Universal/Dreamworks and Activision/Blizzard are two of the most recent examples. But the amount of change and consolidation this year was notable.
A parallel trend: Licensing activity seems to be on the rise for small and medium-sized studios that are not part of big U.S. entertainment conglomerates. MGM is reinvigorating its licensing business in North America, exhibiting at the show with other Brandgenuity-represented properties. Miramax recently retained exhibitor White Space Entertainment to represent its properties for licensing. Meanwhile, Legendary Entertainment, a subsidiary of China's Wanda Group, and Lionsgate were also touting their films and TV shows, both archival and new.
Cannabis: Focus on Education and Exploration
Show organizers put an emphasis on the hot topic of cannabis, including both THC- and CBD-related properties. The intent was more to educate than to make deals in this early stage. In addition to a seminar at Licensing International's Licensing University, there was a Hemp and Cannabis Marketplace that consisted of 12 brands with mainstream licensing potential. They were featured together in a series of small displays, with industry executives on site to answer questions. The pavilion seemed to generate significant interest among licensees and other potential partners.
The brands included cannabis-centric lifestyle brand PRØHBTD; holistic women's personal care brand Hempathy; The Patch Co., maker of a fashionable transdermal CBD patch; Ceeby Dee's hangover and energy tinctures; Heavy Grass, a lifestyle and experiential brand; edibles and HBA company CBD Living; cannabis candy company Kiva Confections; Soko Cannabis Creations, which markets everything from vapes to edibles; edibles marketer Legion of Bloom; Foria Wellness, a health and intimacy brand; Jushi's Mend brand of doctor-approved CBD tincture, capsules, lotions, and lozenges; and Futurola USA, a maker of rolling devices and supplies.
Outside the Marketplace, a few booths were also touting cannabis-related brands and activities. Beanstalk just signed to represent PRØHBTD and its Hempathy and Ceeby Dee's consumer brands, planning to extend them into lifestyle and other categories.
Meanwhile, Authentic Brands Group (ABG) and its partner Tilray hosted a CBD wellness pop-up to educate fans, preview branded products, and give out samples. In January of this year ABG and Tilray signed a revenue-sharing agreement to develop and market consumer cannabis brands that pair Tilray's cannabis industry knowledge and ingredients with ABG's portfolio of properties. Deals under the partnership to date include Thalia Sodi with ICC International for a line of CBD beauty products and Greg Norman with GGB Beauty for a CBD personal care line for active men and women.
The Pendulum Swings Toward Underserved IP
Entertainment/character programs tend to alternate over time between strategies focused on investing in and focusing on primary properties on the one hand, and strategies aimed at maximizing opportunities for underexploited, archival, and secondary IP on the other. The pendulum seems to be swinging toward the latter this year.
Hasbro is delving into its archives to reintroduce some of its classic brands, including Micro Machines, which is being relaunched with Wicked Cool Toys, and Tonka, which is being refreshed by Basic Fun in its original steel version. These and other brands, such as Pound Puppies and Lincoln Logs, will be marketed both to nostalgic adults and to today's children through licensing, both in core toy categories and extensions into other products.
Dr. Seuss Enterprises was touting newly developed sub-brands such as the Seuss Steam School for education, Oh the Places….Travel, Seuss Chef for cooking and kitchen categories, and Thing 1 and Thing 2 for their wacky humor. All will encompass publishing, licensing, experiences, and promotions. DSE is also looking at secondary characters for potential expansion, including Cindy Lou Who, The Grinch's dog Max, and Sam from Green Eggs and Ham, all of which are featured solo in a new series of board books from Random House.
Sesame Workshop is preparing for the Year of the Monster, based on the bestselling The Monster at the End of This Book, a classic book that has become a publishing franchise, starring Grover. An animated TV special, short-form content, and additional publishing tie-ins part will be of the mix. The venture is expected to be the first of a number of annual brand initiatives aimed at raising the profile of characters or sub-brands beyond the top sellers.
Other spin-offs and refreshes include a new licensing effort for Goofus and Gallant, the comic strip characters from Highlights magazine, which will be licensed in both their retro form and as urban millennials; Nickelodeon's SpongeBob, which will follow up on its 20th anniversary with a new prequel TV series inaugurating multiple planned spin-offs; and MGM rebooting the Pink Panther brand in the U.S., where it has almost no licensing activity despite being a $1 billion annual franchise in the rest of the world.
Influencers and Internet Properties Go Mass
Licensing executives often point out that children live on YouTube and other streaming platforms rather than television these days. Yet online distribution still represents a fragmented market that drives mostly niche licensing efforts (with some exceptions). As a result, several licensors of Internet- and mobile-based properties announced before and during the show that they were pairing with traditional media companies.
Nickelodeon is one traditional media company making a big investment in bringing such properties to the traditional media space, signing Pinkfong's Baby Shark, Ryan's World, and Mexican YouTube star Isabella de la Torre (La Bala) for entertainment productions and licensing. These properties hope to follow in JoJo Siwa's footsteps as successful YouTube-turned-Nick TV stars.
Similarly, Nelvana announced that it would be working with LINE Friends, the Asian messaging app characters and now lifestyle brand. It will develop and co-produce an animated TV series and distribute it locally (outside of Korea, Taiwan, Russia, and the Commonwealth of Independent States). It will also represent LINE Friends' Brown & Friends brand, aimed at millennial consumers, for licensing in Canada, with pop-up shops of branded and collaborative merchandise planned.
Location, Location, Location
Naturally, experiential licensing and location-based entertainment were common topics of conversation, as has been the case for several years.
Hasbro recently broke out oversight of its location-based entertainment activities to a dedicated global team, and has announced a number of ventures recently, including a themed water park featuring properties such as Nerf, Monopoly, and My Little Pony in Malaysia with Meridian Berhad; multi-property family entertainment centers in the U.S. and Canada with Kilburn Live; and Nerf Action Xperience locations with Kingsmen Creative, first in Singapore and then in the U.S.
MGM is also looking to new experiential ventures, after a hiatus of about 12 years since the last initiative, viewing location-based entertainment as a big driver of the rejuvenation of its properties in North America. And a number of other studios and entertainment licensors announced new experiential ventures, ranging from Cloudco partnering with Falcon's Creative Group for Care Bears entertainment and retail venues to Endemol Shine pairing with Eatwith for culinary experiences such as food tours, cooking classes, and dinner events. Universal Brand Development was touting the Trolls Live! world tour with VStar Entertainment Group, which was announced in April.
The profile of experiential properties with outbound licensing efforts was also high this year. While almost all of the properties have been at the Expo before, their booth presence is growing. Examples include wrestling events such as WWE, New Japan Pro-Wrestling, and the luchadores of Masked Republic (at Firefly Brand Management); extreme motor sports brands such as Monster Jam, MotoGP, and Nitro Circus; and other experiential licensors, such as MWE Live, a producer of Margarita Wresting e-sports experiences, and Ringling Bros. Barnum & Bailey Circus, which, like Monster Jam, is owned by Feld Entertainment.
A Multifaceted Approach to Diversity
The presence at the Expo of properties for Hispanic consumers continues to grow:
Bilingual properties focused on preserving Latin-American culture, traditions, and role models among Hispanics in the U.S. include Canticos, a music-based brand for preschoolers licensed through a partnership with Nickelodeon, and first-time exhibitor Lil' Libros, a publisher of bilingual books about important Latin-American figures and traditions.
Entertainment properties for a mainstream audience featuring Latin themes range from Sony Pictures Consumer Products' feature film Vivo, which is about the lead character's journey from Cuba to Florida, and the upcoming Nick Jr. series Santiago of the Seas, which follows an eight-year-old pirate while educating about Latin-Caribbean culture and Spanish language.
Food and restaurant brands with resonance for Hispanic consumers include La Flor Spices, a 50-plus-year-old company based on Long Island, and Trejos Tacos, a chain with eight locations (seven taco stands and one donut shop) in Los Angeles, represented for licensing by The Sharpe Co.
Meanwhile, ethnicities and cultures portrayed in character/entertainment properties available for licensing in the U.S. are expanding. Some are made in America while others are from other countries and are gaining fans in the U.S. through distribution on Netflix or other streaming platforms.
Some examples: Luo Bao Bai from Chinese studio Magic Mall, which was exhibited at the booth of its global distribution and merchandising partner 9 Story. It has TV deals in place across a number of countries, as well as secondary distribution globally on Netflix. Disney is preparing a Disney Junior show for a 2020 premiere called Mira, Royal Detective, which is set in a fictional land of Jalpur and inspired by the culture of India. And Adorned by Chi is a lifestyle brand and graphic novel-driven character universe set in Africa, created by a Dallas start-up.
Random Observations and Insights
Other trends and themes noted at the Expo this year:
Although some emoji-related properties that had exhibited previously were missing this time around, properties based on emojis and emotions were abundant. Kakao Friends, the Korean messaging stickers, joined the similar LINE Friends characters with a big exhibit. Smiley and the Official Emoji Brand were present as always. Celebrity emojis included Kiss at Epic Rights. Classic properties associated with a range of emotions included old-timers such as Care Bears and Mr. Men, joined by newer exhibitors such as Live A Widdle at Red Truck Licensing Group and DJ Design & Joy.
Japanese culture in the form of manga, anime, and videogames is as strong as ever, with a presence around the Expo and several deals announced just before and during the show. Crunchyroll, which represents properties including Yuri!!! On ICE, Bananya, and many others, signed with Bioworld Merchandising for lifestyle apparel and accessories; Manga Entertainment retained Reemsborko as its global agent for Cannon Busters, an original manga-style comic book-based miniseries on Netflix, with Hot Topic set to carry apparel; Viz celebrated the 20th anniversary of Naruto; and Konami announced new Yu-Gi-Oh! products, including cereal.
Music seemed especially prominent as a key selling point in a number of entertainment properties, from the music of Lin-Manuel Miranda (of Hamilton fame) in the feature film Vivo and that of Justin Timberlake in Trolls 2, to apps, TV series, influencers, and more.
Mini-collectibles maintained their importance as both licensed properties and as licensed products, being featured at the booths of all the toy companies and many other exhibitors as well. Examples ranged from Goliath and Magic Box International's Superzings to Tokyodachi's collegiate mini-figures.
The art pavilion is dwindling away. It is true that some traditional art agents have been expanding their presence at the show, often moving out of the art area in the process; examples include Art Brand Studios and Jewel Branding and Licensing, as well as The Buffalo Works, which has also been diversifying into other property types. But the number of artists and agents exhibiting overall has declined significantly. Many did not exhibit last year due to the overlap of the art and design show Surtex with Licensing Expo, and they did not come back in 2019 when the two shows were scheduled nearly four months apart.
Changing Business, Changing Show
The traffic in the show aisles seemed particularly light this year, according to most exhibitors and attendees and our own observations. On the first day, Disney—not an exhibitor but holding summits in nearby meeting rooms during the show—pulled many people off the floor. But the consensus was that traffic in general was down, although there were bursts and pockets of heavy crowds. There were also noticeably fewer booths, not just because of the studio consolidation mentioned earlier but also due to the disappearance of some exhibitors.
A significant portion of the show floor was devoted to networking areas with tables and chairs, cafés, and seminar and presentation areas for Licensing University—located on the Expo floor for the first time—and License! Global. All the activities gave the show more of a community feel, but also called out the lower booth count.
Most of the exhibitors that were on site said they had a productive show. Several reported prescheduled meetings in which deals were being done, albeit with i's and t's still needing to be dotted and crossed. And unscheduled visitors were mostly serious prospects, booth holders said.
There was a lot of unprompted discussion about the value of the Expo, however, with exhibitors often bringing up the high cost of their presence. Costs mentioned ranged from $50,000 to $70,000 for small to mid-sized independent agents with larger booths, to $1.2 million for an exhibitor in the studio/network class, including costs of the booth and correlating events. Several said they were considering whether it's still worth exhibiting, especially given the drop-off in foot traffic. Some were talking about whether co-exhibiting with a like-minded colleague might be prudent, or whether just attending, holding meetings but not exhibiting, would be the way to go.
Much of this discussion is rooted as much in the changing nature of licensing as in concerns about the show itself. The challenges facing the Expo also parallel those of other trade shows, which are similarly trying to figure out how to reposition themselves for the future.
Licensing International Expo 2018:
E-Commerce, Streaming, and The Power of Amazon
Amazon dominated the conversation at this year's Licensing Expo, as it launched Merch Collab, billed as a platform for licensors to sell printed-on-demand products incorporating user-generated content from prescreened designers that does not violate any laws or corporate restrictions. Announced during Amazon's keynote presentation, the initiative is being pioneered by licensors such as Cartoon Network, CBS Consumer Products, and influencer Shane Dawson. Amazon executives were at the show selling the concept to other licensors.
The platform, in conjunction with other Amazon initiatives such as Amazon Stores and Merch by Amazon, presents a number of benefits for licensors in terms of speed to market, product development, consumer research, and customization, according to those involved with the program. But some licensing executives are also concerned about Amazon's growing power, among other factors. (RaugustReports will be taking a more in-depth look at Merch Collab in the coming weeks.)
Coincidentally, another bit of less-noticed but significant news involving an e-commerce power came out while the show was in session. Fanatics announced it would be the exclusive manufacturer and distributor of all Nike-branded, NFL-licensed merchandise, aside from children's and on-field products, in a 10-year licensing deal. Part of the impetus from the NFL's point of view was to be able to move quickly to capitalize on the hot-market opportunities that are so important in licensing today.
The Fanatics and Amazon moves reflect the growing importance of e-commerce, not just for convenience but for its ability to allow licensors and licensees to react more quickly to market conditions and to provide the much wider product assortment that consumers want and traditional retail cannot accommodate.
Can Streaming Drive Sales?
The ubiquitous signage touting streaming distribution for entertainment properties on Netflix, Hulu, Amazon, YouTube, and others continues. "Streaming is having a dramatic impact on how we think about everything," says Scott Chambers, senior VP of North American media and licensing at Sesame Workshop. "It's a new source of funding and distribution. But it's also more competition, and no one knows yet if Netflix can drive sales."
While some streaming series have been airing long enough to generate data on their impact on licensed product sales, there does not seem to be a consensus on what that impact is. Some owners of franchise properties with new streaming exposure said in interviews that there was no perceptible change in sales of licensed merchandise, while others saw a distinct uptick. Success rates were similarly varied for non-franchise-based, streaming-only properties.
Of course, it is hard to pinpoint the effects of streaming precisely, given that it almost always represents just one aspect of a property's marketing and entertainment ecosystem. "Streaming is gaining more traction all the time, but there are too many touchpoints to see if there's a strong correlation," says Simo Hämäläinen, head of brand licensing at Rovio.
"Appointment viewing used to be the big gun," adds Amory Millard, co-owner of consultancy Manson & Millard. "Now you have to make up for the lack of that focused experience with a continuum of less focused experiences."
Speaking of Amazon's growing power, one wrinkle that came up in conversation often at this year's show was that securing distribution on Amazon Prime can be problematic for licensors and licensees, even as it gives exposure to a property and can spur e-commerce sales on Amazon. Several companies reported that Walmart had opted not to carry products tied to shows distributed by its competitor Amazon, for example. Others said they are changing packaging to feature phrases such as "now available for streaming" rather than "now available on Amazon Prime" to address retailer concerns.
A Reaction to World Events?
Several trends noted at the Expo could collectively be seen as a reaction to some of the divisiveness that has been prevalent across the global news landscape in recent years.
First, branding, messaging, promotions, and design elements celebrating people's differences were on the rise. For example:
Peeps offered brand-consistent messages such as "Inside We're all the Same" on t-shirts and other merchandise. "Peeps can be differentiated to make people feel special," says Bob Traub, principal at Peeps agency Brand Activation Consulting, who reports royalties from the brand have tripled in three years.
One component of Sesame Street's 50th anniversary celebration next year will be a consumer-facing campaign called "This is My Street," which sends Big Bird out to see the world and supports a curriculum about understanding differences and coming together.
Cartoon Network teamed with Unilever in a two-year project in which its character Steven Universe and creator Rebecca Sugar will be the face of the Dove Self Esteem Project, meant to empower those who feel different from the ideal or the norm. The program involves public service announcements, events, and other elements.
Meanwhile, diversity was reflected in the properties on display and in discussion at the show, from black characters starring in entertainment/character properties such as Centa IP's Motown Magic and Nickelodeon's Nella the Princess Knight, to Barbie and Random House featuring a curvy ballerina on the cover of the licensed book The Perfect Spin as part of Barbie's diversity initiative.
Hispanic consumers and culture were prominent in a raft of properties from Albert Whitman's Zapato Power to One Entertainment's range of celebrity, television, and sports properties, to the Elf on the Shelf-like book-and-toy brand Lupita. This trend is not new, of course, but this year's Expo seemed to feature more properties in a bigger way than ever before.
Girl Power Redux
Girl empowerment was a theme again this year in conversations with licensors and licensees. One example: Among Scholastic's new Harry Potter books is Witches Rule: A Guide to Girl Power in the Wizarding World, which focuses on Hermione, her powers, and her connections to other women and their powers, in both the worlds of Harry Potter and Fantastic Beasts.
While girl-powered superhero properties such as Miraculous and Mysticons were still on display, many of the female empowerment properties this year were rooted in everyday reality, even as they were connected to fictional characters. Mattel's Barbie continues her focus on empowerment, for example; her "You Can Be Anything" motto was notably promoted.
The Roald Dahl estate and its North American agent BAC are planning to focus on Matilda as their hero character in 2019. While not driven by the girl power trend, the estate is conscious of the property's relevance. "We won't be banging the feminist drum, but it's a good time to focus on Matilda," says Bernie Hall, the estate's marketing director.
In some cases, the female empowerment trend is captured in phrases and imagery. Random House's adult publishing division was highlighting a collection of images and patterns inspired by Rachel Ignotofsky's Women in Science: 50 Fearless Pioneers Who Changed the World. The collection is billed as empowering girls and women to follow their dreams and passions, and to spread the message about scientific literacy and education. Other licensors were offering girl-power phrases and imagery in licensing programs for all ages.
In another possible reaction to world events, there also seemed to be a slight surge in properties that focused on kindness and caring, from Mattel's Enchantimals to CraneKahn's Mofy.
Other Observations
Many of the observeable trends at Licensing Expo this year have been ongoing for some time. There was news of experiential initiatives and lots of collaborations in the form of limited editions and capsule collections.
As The Joester Loria Group's executive VP and COO Joanne Loria points out, limited editions and capsules give licensors retail placement and media value in the thousands of dollars (measured in cost per thousand impressions), "but you can't measure it in royalties." That is true of many of the deals touted at the Expo these days, creating challenges for licensors and agents alike.
Co-branding and crossovers continue to be common, with the pairings ever more disparate. Angry Birds has recently partnered with Iron Maiden, while Rick & Morty teamed with Dungeons & Dragons in a crossover comic from the properties' respective licensees, Ony Press and IDW.
Considering the high interest in e-sports within the licensing community over the past couple of years, and the prominence of video game companies at the show, licensing programs tied to e-sports still have a relatively low profile. That said, Beanstalk announced just before the Expo that its Tinderbox division is representing ESL, a leading e-sports event producer whose flagship contests include ESL One, Pro League, and Intel Extreme Masters. And Activision Blizzard exhibited a wall of city-based team apparel that is part of its licensing program for the Overwatch League. It also has licensing initiatives for the Call of Duty World League and MLG Network and is looking to expand those ventures beyond clothing.
Other continuing but still notable trends:
Collectible toy brands remain viable for now, as more examples (e.g. Cupcake Surprise at Global Icons and Soft'n Slo Squishies at Nelvana) enter the world of licensing.
Influencers are gaining ever more traction, with examples including comedians Shane Dawson, repped by UTA, and Jake Paul, handled by Brand Central, and young unboxing stars Ryan of Ryan ToysReview and HobbyKids, both licensed by their content distributor Pocket.watch. Not only is influencers' profile growing in terms of sheer numbers, but they are expanding the reach of their licensing programs as well.
Retro gaming properties and bitmapped artwork also seem to still be on the upswing.
The art section of the Expo was notably smaller this year, with fewer artists and agents—even longtime exhibitors such as MHS Licensing—absent. This was the second year that Licensing Expo overlapped with the Surtex art licensing and surface design show in New York. Next year Licensing Expo reverts to a June timeframe (June 3-5), while Surtex moves from its traditional May slot to February 3-5, thus eliminating the conflict between the two. It remains to be seen whether artists will return to doing both shows.
Licensing International Expo 2017:
The Promise and Challenge of Digital Distribution
The rise of licensable properties with roots in digital media has been swift, a fact underlined by the properties on display at the 2017 edition of Licensing International Expo. It was just in 2010 that Angry Birds became what is widely credited as the first mass licensing success story emanating from the digital realm. And the landscape has been transformed in the seven years since.
While the sheer number of digitally driven properties available for licensing—along with the quick transition of the business in this direction—is notable, it is not surprising given the state of consumer entertainment consumption and retail trends.
Digital platforms offer lower barriers to entry for new properties. Consumers in the coveted millennial market, and younger, tend to spend an inordinate amount of time in the world of social media and other channels. And the fragmentation of traditional media, among other factors, has made it more difficult to succeed by taking the historically proven path.
That said, few IPs originating in social media, streaming media, mobile apps, or other digital channels have rivaled traditional media properties in their level of success to date (as measured in total dollars). As a result, some potential licensees are still skeptical about securing rights to digital-only properties.
For the most part, however, licensees and retailers are increasingly willing to tie in with digital-origin properties in a big way. And they more often view them not just as niche opportunities, but as having potential at mass retail.
Social Media as Launch Pad
These days, for every Property Brothers (at the Scott Living booth) or Chloe Lukaniak of Dance Moms (at Brand Central), both of whom have gained fame through traditional media, there is a social media celebrity such as LaurDIY (also Brand Central) following them into licensing.
As a case in point of how mainstream such celebrities can be, Nickelodeon was highlighting its licensing program for JoJo Siwa—a 14-year-old YouTube influencer, singer, and dancer who first began appearing on Nickelodeon last fall—in English-speaking markets around the globe. The launch involved 30-some licensees, including Danskin and Just Toys, rivaling the scope of any traditional TV-driven licensing program for the same demographic group.
Other digitally driven property types generating interest at the Expo included:
• Characters gone viral. Sanrio's Gudetama ("the lazy egg") has gained exposure through short videos that have taken off online in Asia and abroad. The character has the largest Twitter following of any Sanrio property, including Hello Kitty, and has generated 150 million total social media impressions since being introduced in North America in 2015. It has been featured in collaborations with New Era, Tokidoki, Forever 21, and Funko.
• Brands born in social media and apps. Musical.ly, at the Brand Central stand, and Buzzfeed were two new examples on the show floor in 2017. (Celebrities established through Musical.ly have also been signing agents to handle their commercial activities of late.)
• Properties with user-generated content as a part of their DNA. StikBot from Zing toys is a suction-cupped action figure that comes with a simple animation app that enables the creation of animated stop-motion videos. It has been accumulating views, YouTube subscriptions, user-created animation uploads, and sales at a significant pace. The property, licensed by The Joester Loria Group, joins other UGC-driven properties entering licensing, such as Roblox, which signed a toy deal with Jazwares earlier this year.
• Mobile gaming apps. Although the days of seeking "the next Angry Birds" have largely passed, mobile gaming apps continue to rack up licensing successes on a narrower scale, focused on their core consumer base. Slither.io, licensed by Tie In Pro, entered the mobile space after launching as an online game and has signed licensees for toys, t-shirts, stickers, and more, for example.
One of the benefits of digital-origin properties is their propensity to become viral without a push from the marketer, an ideal situation for creating consumer demand for merchandise. That has happened with Slither.io, which has seen its early placements of collectibles from Bonkers Toys sell out at Target and Walmart. "It's all been completely organic," says Lisa Berlin, founder of Tie In Pro. "Eight-year-old boys love it, and hundreds of YouTube gamers have embraced it."
The Speedy Rise of Streaming
Three years ago, licensees and retailers were leery of tying in with streaming properties, which were just starting to emerge at Licensing Expo 2014, following the release of the first Netflix Originals in 2013. In 2015, most of the licensing action was focused on streamed entertainment based on franchise content, while 2016 marked the start of a handful of limited deals, mainly for toys and books, tied to streaming originals without franchise roots.
This year, streamed entertainment properties available for licensing, both new and franchise-based, have proliferated—especially on Netflix—and their associated licensing efforts are starting to grow beyond a few core categories (although their level of success is yet to be determined). In addition to individual licensors, some of the leading streaming platforms that finance original properties, including Amazon Studios, have hired licensing executives and were exhibiting at the show.
Examples of streaming properties available for licensing run the gamut from Viz's Death Note, an anime for older viewers, to American Greetings' Buddy Thunderstruck, for tweens and teens, to Dreamworks/Universal's Spirit Riding Free for kids 5-7, to Pete the Cat, licensed by Merrymakers, for preschoolers.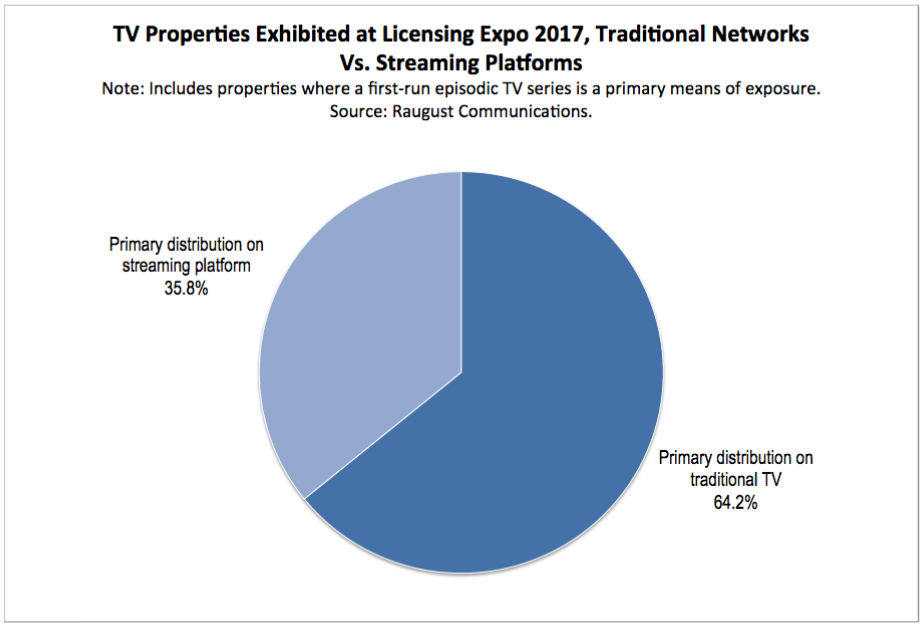 Some attendees expressed skepticism about tying in with Netflix-distributed or other streaming properties for kids. One reason cited, along with low assumed viewership numbers compared to traditional TV, is that kids binge-watch, just like adults do. This jumpstarts demand but also creates a risk that viewers will age out of a property, or otherwise move on, before Season 2 debuts.
Finding the Right Balance
The best situation for licensing is when a property is able to mine both digital and traditional channels for marketing, content distribution, and product sales. In a fragmented environment, licensors and their licensees know that they need to be in all relevant channels.
Sesame Workshop's fortunes over the past year show how all digital and traditional platforms work together. The company signed a deal to distribute a shorter and more core character-focused version of Sesame Street through HBO in 2015. Starting in 2016, HBO became the first-run partner, with PBS airing new episodes later.
"Either despite or because of the HBO deal, metrics are up and engagement is up," said Scott Chambers, SVP/GM, North America Media and Licensing. He notes that not only are TV ratings rising on both HBO and PBS, but time spent viewing the show is up 35%. The Sesame Studios YouTube channel generated 1 billion views on YouTube in 2016, with 4.6 billion minutes watched; Sesame Place had its best opening in three years; and the Big Bird Snapchat filter had more than 309 million impressions, to name a few stats. "We're starting to get feedback from our licensees that there's a positive impact on their businesses," Chambers says.
He believes these results are attributable to several factors. HBO's marketing expertise and reputation for quality content, the fine-tuning of the show, and the fact that PBS remains supportive all contribute. Strong social media usage across all the key platforms helps with exposure, as do deals with Netflix and Sprout. High-profile partnerships with the likes of IBM/Watson and marketing initiatives such as Cookie Monster's TV commercial for Apple's Siri also play a role. "And we have another 150 partners that do a great job," he says.
Even as mass properties need exposure and sales across digital and physical platforms and channels, it is also worthwhile to remember that the nature of licensing these days is largely about successful programs being singles and doubles, each aimed at a different slice of consumers. While there is always the possibility of a property like Frozen breaking through, in general the fragmentation of the business means success is measured differently than in the past.
A Question of Timing
Timing is, of course, always an issue with the launch of a licensed property, and never more so than now, as social media and other factors cause demand to spike early but also fall off quickly.
Cole Gahagan, Chief Commercial Officer of Fanatics, who gave the opening keynote address at the Expo, stressed the need for companies to meet "hot markets" opportunities that arise. When the University of Miami Hurricanes football team won a game by means of a return involving eight lateral passes in the last six seconds of a 2015 game, Fanatics, which is involved not only in ecommerce but manufacturing, was able to offer t-shirts commemorating "The Return" by the end of the same week.
As one indication of the immediacy of merchandise demand during key sports events, Gahagan reports that 80% of all Fanatics orders during championship games come via mobile phones, versus 50% for Fanatics orders overall and just over 30% for etail/retail at large.
A "hot markets" mentality is important beyond sports as well. When an episode of Cartoon Network's Rick and Morty mentioned a 1998 limited-edition Szechuan sauce (a Mulan promotional product) available at McDonald's, fans immediately contacted the QSR requesting the item's reintroduction and old packets started going for significant amounts on the secondary market. Pete Yoder, VP Cartoon Enterprises North America, said the situation led the network to fast-print t-shirts with Szechuan sauce-related designs to satisfy fan demand.
Of course, finding the balance between satisfying short-term or early demand and coming out too early is an age-old problem, and it exists for traditional as well as digital properties. In its licensing event the day before the Expo opened, executives from Level 5 Abby noted that the Yo-kai Watch Nintendo DS game and TV series have performed all around the world, and Hasbro's toys and other licensed consumer products have sold well in Asia, Europe, and Latin America. But merchandise has struggled to find a foothold in English-speaking markets.
"It needed a little bit longer for the story to get told," said Simon Waldron, Level 5 Abby's SVP Marketing and Licensing. "The expectation from day one was so high, because it had been so hot in Japan. We tried to do too much too soon." Waldron notes that Hasbro remains committed to the property, and the company plans to continue to release new content as it reevaluates its licensing direction in the U.S./Canada, U.K., and Australia/New Zealand. "We're at the point where the course has to change," he says. "We'll let the current merchandise work its way through and then look at categories where we can introduce new ideas, and figure out where we can have success on a smaller scale to start with. At this point it's about keeping an open mind."
Other Observations from the Expo
Aside from all things digital, the show underlined a number of licensing developments that have been ongoing for some time:
• More properties and products are coming into the preschool space, despite the crowded market. Even with the intense competition, the potential for properties geared to the youngest consumers is relatively strong compared to those for other demographic groups, many executives believe, and such properties cross borders relatively easily.
• Girl power continues to be a key theme in the entertainment space, both with ongoing and new properties. In some cases, licensors are touting female characters among a group of equals and sometimes a smart or strong girl in a sole starring role.
• Collectibles, not surprisingly, were visible at the Expo, with both licensors of collectibles brands and collectibles licensees overseeing exhibits. Funko, one of the biggest—and still expanding—players, had a large booth presence this year. There does not seem to be a consensus about whether any of the newer collectibles-based brands will follow in the footsteps of Shopkins in terms of licensing success.
• Interactive gaming properties, from console games (e.g., Activision's Call of Duty) to mobile apps (Zeptolab UK's Cut the Rope) to retro games and brands (Intellivision at Licensing Works!), were abundant across the show floor as usual. One indicator of the growing synergies among games for all platforms was the Activision Blizzard King booth, the first time this recently consolidated entity exhibited as one unit.
• The space devoted to Asian character/entertainment licensors continues to expand, in part through efforts by show organizer UBM and in part due to financing by governments interested in giving their homegrown IP an international stage. Relatively few have made significant incursions into the U.S. market, although more are securing U.S. agents or other partners.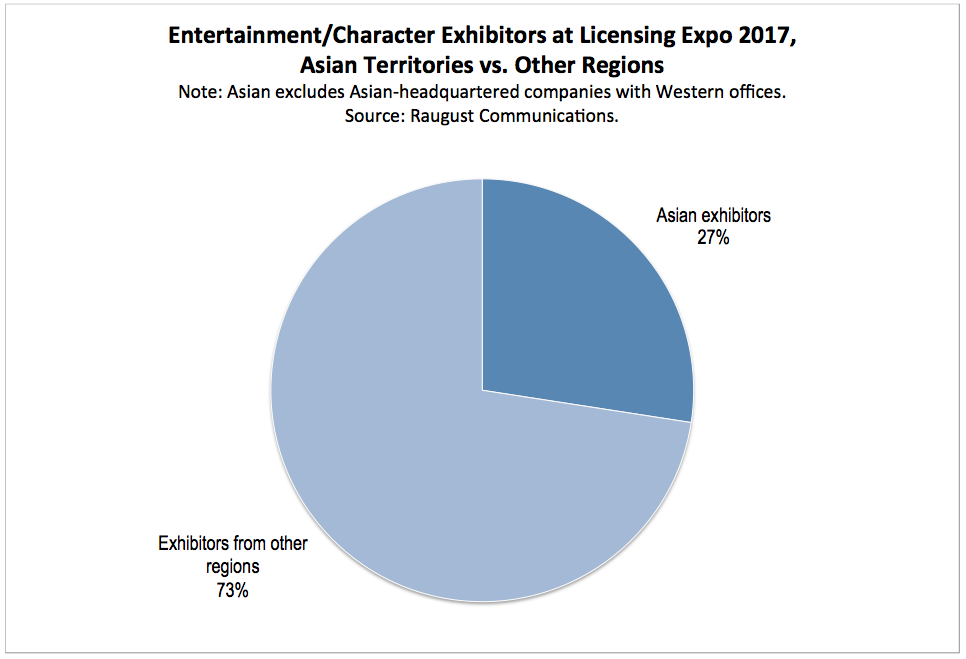 In part due to the expansion of the Asian and other international exhibitors, the Expo has become ever more entertainment/character-driven over the years, although all the other property types are present to various degrees, with celebrity and corporate licensing particularly well represented.
Check RaugustReports for more insights from Licensing Expo and other licensing trends.