Licensing Expo 2022:
First In-Person Expo of COVID Era Highlights Continuing Themes
June 1, 2022: Licensing Expo 2022, produced by Informa Markets and sponsored by Licensing International, took place in Las Vegas on May 24-26 as the first live iteration of the event since 2019. For the most part, those present reported strong and steady traffic (except for Day 3), especially compared to expectations.
The attendees seemed prepared to do business, according to exhibitors, and came armed with specific objectives they wanted to achieve. Not only were booths booked with appointments, but many exhibitors reported stronger-than-predicted drop-in traffic from serious-minded potential customers.
While some of the larger retailers brought smaller teams than usual, there was plenty of retail presence, with many exhibitors connecting with a wider variety of retailers than is typically seen on the show floor. Show operator Informa Markets confirmed that perception, saying that the number of retailer-attendees increased 42% compared to the last in-person Expo in 2019. Several exhibitors attributed this trend to increased sales of licensed products at retail since the start of COVID.
Some of the retailers present, according to exhibitors, included Kohl's, TJX (TJ Maxx, HomeGoods, Marshalls), Books a Million, PacSun, Ross, Urban Outfitters, Pottery Barn, ASOS, Forever 21, and Hobby Lobby, among others. And, in a new wrinkle, exhibitors reported a much higher presence than in the past for distributors, which were looking for licensing opportunities to bring to their retail customers.
The number of exhibitors was noticeably smaller than had been the norm, with Informa confirming 250 signed on for 2022 (as of the week before), versus 150 new exhibitors alone in 2019. Due to continuing uncertainty, some of the licensors that would normally have a high-profile booth, including King Features, the NBA, Coca-Cola, Cloudco (Care Bears), Sanrio, and Sesame Workshop, operated from private meeting rooms at the edge of the floor.
And a large number of long-time exhibitors had no presence at all, although most had at least a small team in attendance. Two of the areas that seemed to be impacted the most included the artist pavilion—which had been decreasing in size before COVID, especially after the move to Las Vegas—and exhibitors from overseas, especially Asia. But all property types and regions were affected.
As with everything related to COVID, flexibility was key. Due to positive diagnoses just before or during the show, there more meeting cancellations than typical, as well as last-minute substitutions in who was participating. Many attendees brought just one or a few people rather than a full team, while some exhibitors were operating with skeleton crews or had to cancel at the last minute. Off-floor licensee summits and presentations were far fewer than usual, with many licensors opting for virtual summits just before the show instead.
While the tenor of the Expo was upbeat in general, conversations centered on a number of worrisome issues. These included:
Improving but continuing supply chain issues.
Still-high retail inventories.
Persistent uncertainty about the virus, making it difficult to plan.
Labor issues impacting manufacturing, shipping, retailing, and other sectors of the business.
Inflation and a potential recession, and the likely impact on consumer demand.
Consumers' attention to sustainability and their preference for experience over "stuff," both of which could dampen their desire for licensed products.
Retailers' ordering behavior.
The last bullet point was top of mind. Due to the challenges above, and more, many retailers are unwilling to commit to programs at all, licensees and licensors say, or are making last-minute purchase decisions. This wreaks havoc with their partners' planning, in terms of which licenses to support, which merchandise to develop and manufacture, what quantities to produce, and when to go forward with various phases of the development process.
Location-Based Entertainment at the Forefront 
 The theme of the 2022 Expo was location-based entertainment, and many exhibitors were displaying their efforts, announcing new ventures, or touting their success stories. A few examples:
Feld Entertainment, which was exhibiting a virtual-reality ride tied to Monster Jam, is bringing back the Ringling Bros. and Barnum & Bailey Circus in fall 2023, a move announced just before the show began. The franchise, relaunching as a lifestyle brand, will include theme park attractions, touring exhibitions, a documentary, and consumer products.
Moonbug Entertainment's CoComelon and Blippi brands announced they will be featured at Falcon's Beyond's new Falcon's Central attraction, along with PBS Kids properties Dinosaur Train, Odd Squad, Wild Kratts, and Xavier Riddle and the Secret Museum.
BBC Studios said a Bluey traveling stage show, featuring puppetry rather than costumed characters, is coming to the U.S. next year, with 35 stops on tap, after launching in Australia.
Seltzer Licensing reported that the first American Ninja Warrior branded gyms are opening this month (June 2022).
The World of Eric Carle trail in the U.K. attracted 160,000 people in its first week, according to The Joester Loria Group.
There have been 80 marriage proposals to date in The Friends Experience, according to licensee Superfly X, showing the emotional resonance of the show in people's lives.
Several exhibitors and keynote speakers noted the importance of having an ecosystem of location-based entertainment. Objectives, audiences, costs, lifespans, accessibility, and other factors differ between a theme park and a traveling mall show, for example, and each his its own benefits and challenges.
Exhibitors, speakers, and attendees also stressed the fact that location-based entertainment is a very difficult and costly business, which is something licensors should be aware of as they enter this important but challenging sector.
Diversity and Inclusion
Not surprisingly, there was a notable uptick in the number of diverse characters with starring roles in the children's entertainment space since the last in-person show, given the events of the past three years.
Particularly high-profile were Black and Latinx characters. The former are taking the lead in properties such as Hasbro's Africa-set Kiya & the Kimoja Heroes; Nickelodeon's That Girl Lay Lay and its relationship with Darryl McDaniels, which has resulted in a book, Darryl's Dream, with Random House, among other ventures; and Karma's World at Epic Story Media, developed with Chris "Ludacris" Bridges.
Latinx characters, meanwhile, are front and center in TV properties such as Fred Rogers Productions' Alma's Way on PBS Kids and in book-based IP such as The World of ¡Vamos!, a HarperCollins-published book series by Raúl the Third, which debuted a new licensing program with agency Merrymakers, and Flavia Z. Drago's Gustavo the Shy Ghost and Leila the Perfect Witch, published and licensed by Candlewick.
During a pre-show press tour, Laura Takaragawa, vice president of consumer products and promotions for Viz Media, was asked how Viz determines the right products for properties such as JoJo's Bizarre Adventure, which attracts a diverse audience. She noted that working with diverse brands and designers, who also are passionate about JoJo as fans, ensures that the company is doing it right.
NFTs and the Metaverse
Despite Licensing Expo coinciding with news about prices for NFTs and cryptocurrency plummeting, NFTs and more broadly the metaverse maintained a high profile at the show. Companies, including licensing agencies and specialists, were touting their NFT services, while licensors were highlighting their recent NFT ventures.
Among the many examples of the latter:
Paramount has a collection of Star Trek NFTs and displayed large-form reproductions of them as design elements in its booth.
Funko has a team dedicated to its fast-growing NFT business. Many of its initiatives are co-branded with properties such as Kelloggs' cereals and Warner Bros.' Scooby Doo.
New York's Metropolitan Transit Authority (MTA) entered the NFT space for the first time recently, in a deal handled in-house, according to its agent Moxie & Co.
On the other hand, some licensors, especially of IP for younger children, said they were holding off, at least for now. "If we are to be there, we want to do it right and protect our fans," said Suzy Raia, senior vice president, consumer products and business development at BBC Studios, who said her team was looking at the space and trying to determine if it should play in that arena.
Executives note that NFTs' role in licensing will ultimately be about access, membership, and added value. "It's about owning history or a future experience," said Stacie Cohen, the NBA's senior director of branded attractions, who spoke on a panel about location-based entertainment.
Keynoter Gary Vaynerchuk, chair of VaynerX and VaynerMedia, said NFTs will become ubiquitous in 15 years, although today's gold rush phase, where NFT mining and collecting is all about the money, will disappear. "It's not about becoming a millionaire," he said. Every home or ticket purchase will be recorded on an NFT, which proves ownership and has smart contract capability, he predicted. Collectible NFTs will be purchased to display and talk about with friends and other fans, as well as having utilitarian value, such as entry to a live event.
Noting that NFTs give the IP owner a royalty not just for the initial transaction but for every secondary transaction, he believes NFTs should be the first component for any new IP, followed by entertainment, consumer products, and the rest. "You get a royalty for every transaction forever," he says. "Establish the IP minted on the blockchain. It makes no logical sense to establish an IP on entertainment or toys or anything else."
The Streaming Era Is Now
Content distributed on streaming platforms was on the rise as a source of licensed properties before COVID hit, but such properties have taken leaps forward since the last live Expo. Moonbug, which announced during the show that it had purchased One Animation and its Oddbods IP, had one of the larger booths on the floor, devoted to CoComelon, It was joined by good-sized exhibit spaces for CrunchyRoll and especially Pocket.watch. Netflix and Amazon Studios both took private meeting rooms.
Exhibitors noted the benefits of streaming, notably the data capture and the ability to make better merchandise decisions faster, and reported that potential licensees seem not only accepting of digital properties but eager to sign on.
The Lumistella Company, licensor of The Elf on the Shelf, has a global originals deal with Netflix. Beyond the four specials that have already been produced, plans call for TV series, movies, and more specials. The new content will allow the property to transition away from solely being a holiday property, according to co-founder Chanda Bell. "This turns it into a year-round program," she says. "The North Pole has 2,000 years of backstory."
On the other hand, it is worth noting that with so many streaming platforms fragmenting audiences, there have still been few digital-only properties to achieve mainstream licensing success yet, especially in the children's space.
That said, as has been true for many years, licensors were touting their digital successes to entice licensees to their properties. Data promoted included licensors' numbers on YouTube, their social media followings, and the reach of their relationships with influencers. One observation this year was the number of property owners boasting of their exposure on Roblox, where many have taken their first steps into the metaverse.
Exhibitors were also promoting their e-commerce ventures to a greater degree than in the past, such as improved direct-to-consumer sites or new print-on-demand capabilities. Zag Inc., licensor of Miraculous and other properties, opened a dedicated division in France that works globally to create new e-commerce platforms and support its licensees' performance on Amazon and the plethora of other channels where they sell. 
Other Observations
A number of licensors were highlighting pro-social or sustainable efforts. Products of Change oversaw a large meeting area/booth where POC members could work together on sustainability efforts and offered educational content on the subject, while Smurfs licensor IMPS made its sustainability efforts a centerpiece of its booth. But in general the topic did not seem as high profile as it had in previous years, especially on the sustainability side. This may be because making products as sustainably as possible, while still meeting financial hurdles, has become a prerequisite of any licensing deal. It has become more of a necessary way of doing business than something to call out as a differentiator.
Anime and manga are as big as ever, showcased by anime and Japanese content specialists (Viz, Toho, Toei); interactive gaming companies whose properties extend into anime and, increasingly, manga (Sony, etc.); and owners of classic, multi-media properties from Japan (Pokémon). "Naruto is really killing it at retail," noted Takaragawa, who previewed additional Naruto merchandise drops from Nike and the Jordan brand after the success of the first, designed by Zion Williamson of the NBA's New Orleans Pelicans. Viz is celebrating 20 years of Naruto anime, one of several of its properties marking anniversaries this year or in the near future.
Speaking of anniversaries, they remain a key hook for promotions and, to a degree, specialty licensed products. From 25 years of SpongeBob to 50 years of the Richard Scarry book Cars and Trucks and Things That Go, both to be honored in 2024, anniversary initiatives were abundant at the show. The question is how to make those efforts stand out in a sea of birthday celebrations involving licensed properties.
The major licensing agents with roots in corporate licensing (now largely diversified but still handling many corporate marks) were back at nearly full strength in this first show of the Covid era. Their arrays of properties underscored the strength of food, beverage, and restaurant brand licensing, which dominated the corporate space. This sector was followed in importance by the automotive brands, including the usual car companies as well as a growing number of related IP, such as Shell, with a large dedicated booth, and Motul, exhibited by its agent WildBrain CPLG, among others.
Music agents represent another sector whose presence at the show just continues to grow, fueled by the importance of celebrity lifestyle licensing programs and the use of musicians as influencers to sell licensed products tied to other types of properties. As the music industry continues to change, merchandise has become critically important to their overall revenue-generation efforts. Other exhibitors on the celebrity front included CAA and IMG, which maintain diverse rosters of musicians and celebrities from all other walks of life; the players associations for NFL and MLB athletes; and the major full-service agencies, most of which include celebrities in their property portfolios.
Social-emotional themes were top of mind, being sought-after in entertainment and publishing properties in particular. Licensees of children's educational products, such as workbooks and classroom materials, were well represented at the show and looking for social-emotional content, as well as traditional academic subjects, exhibitors reported.
Positive Outlook
A number of exhibitors noted that, despite all the challenges facing the business, sales of licensed products are maintaining the high levels that were seen in the earlier days of the pandemic, driven at the time by a desire for familiarity and nostalgia, among other factors. Licensing International's survey supported that perception, with preliminary results pegging global retail sales for licensed products at $315.5 billion in 2021, up 7.75% since the last survey in 2019.
Vaynerchuk noted the evolution of licensing from purely transactional to one of building brands through emotion and consumer connection. Pam Kaufman, president of Paramount consumer products and experiences, who moderated the keynote conversation with Vaynerchuk, agreed. "This means a lot to people," she said of licensing and licensed properties, especially with roots in entertainment. "These shows have been with us in times that are really challenging. That's why you're seeing so much growth."
Licensing Expo Virtual 2021:
Supply Chain Issues Dominate Share of Mind
Some of the topics highlighted at Licensing Expo Virtual, held August 24-26, 2021, included how to manage supply chain challenges, the market for NFTs, and the future of experiential licensing, among many others. Following are some key takeaways from the show, culled from the sessions presented as part of the Licensing International-produced Licensing University and the Informa Markets-produced live and on-demand content, as well as observations from the virtual exhibitor booths.
Supply Chain Headaches Continue
Labor shortages, trucking and shipping disruptions, congested ports, container shortages and out-of-position containers, periodic factory closings globally due to the virus—all are contributing to continued supply chain woes. "It's end-to-end disruptions," said Tim Kilpin, president of PlayMonster. "It's unprecedented. We're improvising at this point to catch up."
"This is the perfect storm of a lot of factors," said Max Kantzer, CEO of Transmodal Corp. While blips such as strikes or shipping companies going out of business occur periodically, they are typically resolved in 60 to 90 days, he says. But this time all aspects of the supply chain are affected all over the world, and the recovery period is elongated as new challenges occur. The pandemic not only brought its own challenges, but it helped exacerbate some storms that were already brewing, according to Kantzer.
All of this creates big worries about the upcoming holiday season. No one knows whether there will be enough products on shelves or how high the prices will be. "Do consumers understand the challenges?" asked Gaye Dean, vp retail at pocket.watch. "They'll have to pay more or they'll see empty shelves. An empty shop is just not a good look."
The holiday season will also start later and be shorter if products do not arrive in time, which, coupled with potential shortages of many in-demand products, could impact sales levels. "It will be very tight in the market in December," said Dion Vlachos, executive VP of licensing and retail at ViacomCBS Consumer Products.
What are marketers doing to deal with these issues? Some are looking at how they can move production to their home country and/or diversify where they produce their goods. PlayMonster brought half the production of its Schitt's Creek board game to the U.S. this year so the company could take advantage of demand while the property is hot. "It's substantially more expensive to produce here, even with the elevated shipping costs from China," Kilpin said. "There's multiple factors of difference, so you have to be ready for that."
U.S. manufacturing is not viable in some categories, however. "There are no baseball hat factories in the U.S.," noted Sam Hafif, CEO of Concept One Accessories. "There's just not a manufacturing base for our products in the U.S. right now."
Shifting manufacturing away from China is not easy either. Many issues, from local labor laws to importing raw materials, can be more complex in alternative markets such as Vietnam, and managing production in multiple countries is more complicated. It is also difficult to add a new factory without being able to make a site visit due to COVID.
Concept One is producing 65% of its goods outside of China now, in places such as Vietnam and Mexico, with Shanghai as a hub. Most of the factories it uses around the world are owned by Chinese partners, which streamlines some of the issues.
Other solutions manufacturers are using to address supply chain issues include:
Using print-on-demand to help ensure a growing range of products, from apparel to cosmetics, get into the hands of consumers who can't wait until a full shipment arrives.
Building in extra time to the calendar, with extended lead times of as much as eight weeks in categories such as accessories.
Keeping more inventory on hand to make sure there is stock available for the holiday season.
Increasing prices and hoping retailers will work with them so the entire price is not passed along to the consumer (which retailers seem to be open to, at least so far).
It's also important to have efficient processes. "People will need to make decisions more quickly," said Andy Cohan, managing partner and co-CEO at ACI Licensing. He pointed out that the off-price sector is the last segment where the buyer looks at an item, determines the price, and purchases there and then. For others, "the decision-making process needs to be a whole heck of a lot faster than it is today."
Know Your NFTs
NFTs are one of the newest and fastest-growing categories in licensing, and the show reflected the growing interest.
Exhibitors at the Expo involved in NFTs included Chronicle, an NFT studio and marketplace; Elite Coinage Company, which makes Elite's Fungible Tokens, or EFTs, secure, real-world, hard-copy equivalents of non-fungible tokens, or NFTs; Epik, an NFT platform that pairs IP owners and gaming platforms for in-game NFT marketplaces; and Recur, a platform that mints NFTs that can be distributed across different blockchains for the widest possible distribution.
Meanwhile, several IP owners noted that they had entered the NFT space through licensing. They include Dr. Seuss Enterprises with Dapper Labs (an early entrant in 2017); Art Brand Studios (for paintings with moving waterfalls and birds flying); and Mattel with its Hot Wheels NFT Garage, where limited-edition digital cars are auctioned off on the direct-to-consumer Mattel Creations platform.
"This year has been an interesting year, said Gary Ma, COO of Epik, in a Licensing U session. He noted that the market has actually been evolving for four years, from the first Cryptokitty to where we are now, when NFTs have reached mainstream awareness. He stressed out that NFTs are associated mostly with digital collectibles, but they can bring value of all kinds, from granting privileged access to rewards or a metaverse, to ensuring authenticity of physical items.
Gary Bracey, CEO of Terra Virtua, said that while awareness has accelerated, lots of disinformation is floating around as well. Point out that most of the publicity about NFTs is related to the highest-value sales, he explained, "You can buy something for $5. It doesn't have to be $5 million. There's a whole gamut of value there." He believes that the expansion of the NFT market to the mass market will depend on a "killer app."
Licensing plays an important role in the space. "We see licenses as a great way of breaking into the mainstream," Bracey said. "It's all about familiarity and about getting brands that people know and trust. The big problem is reluctance [of brand owners] to jump on board the NFT wave because they don't want to make the wrong decision. Those immediate opportunities are being lost."
DTC, Social Media, and the Omnichannel World
Licensors have jumped into direct-to-consumer, and e-commerce in general, in a big way since the pandemic began. A case in point is FOCO, which had moved into DTC prior to the pandemic. "We made a decision in 2017 that long term we would not be able to bring new types of ideas to market if we had to depend on others," said Michael Lewis, president and CEO. "You have to build an entire universe to do that. We have built an ecosystem that works in a closed loop and drives the ecommerce business." Today, the company attributes 46% of its business to DTC and ecommerce.
There were a lot of discussions of the role of DTC in the broader world of omnichannel retail DTC is not viewed as a competitor to traditional retail. It is more about other benefits such as testing and storytelling. "It's a touchpoint. It's brand-building," said Steven Heller, president of The Brand Liaison. "You can't neglect it or overlook it."
Meanwhile, the role of the physical retailer is changing. While year-over-year growth at bricks-and-mortar is outpacing online sales this year to date, many licensing executives believe physical retail will be more and more about experience, while e-commerce will be about the transaction.
"Online will be the avenue to have greater assortments," says Geoffrey Greenberg, co-president at Just Play. "It's virtually a limitless shelf. We talked for years about SKU optimization. Now we have SKU deoptimization." With different products in each retail channel and consumers wanting what they want, you have to create a broad product base, he said.
Alternatives for product sales have expanded well beyond retail and e-commerce, especially since COVID began. "We're seeking a lot of new channels to get the brands out into the marketplace," said Ross Misher, CEO of agency Brand Central. Possibilities include live stream shopping, TikTok, shoppable content, DTC niches, gaming platforms including Roblox and Fortnite, and beyond.
Social media is also a critical touchpoint within an omnichannel world. Kelli Corbett, chief client officer at agency Retail Monster, said consumers are more digital-savvy coming out of the pandemic, so it is more important than ever for retailers to communicate by social media to enhance the shopping experience, whether by tying in with influencers, creating viral campaigns, or offering click-to-purchase options.
Sandra Vauthier-Cellier, chief commercial officer at Acamar, licensor of the preschool property Bing, said social media helps determine what sizes or colors need to be added to a product line, among other feedback that informs decision-making. "It's a very authentic relationship with the audience, which is very important," she said. "You need to protect it and care about it."
"Fans are not just customers anymore, they're influencers in all areas of the business," said James Haskins, group VP, consumer products licensing at the National Hockey League. "The storytelling through e-commerce and social media is so important. It's the stories about game and players on and off the ice that connect us to the products and the fandom and the heartstrings."
Athletes are taking on the role of influencers and storytellers as well, said Terese Whitehead, VP consumer products and strategy at NFL Players Inc. "We call them athlete-influencers. There's no need to build a marketing campaign on a player. You're taking what the player is doing organically and building an ecosystem around that. And the guys at the end of the bench often get more social engagement than the superstars, so it levels the playing field."
"You have instantaneous feedback on every breath you take," said Michael Lewis, president and CEO at collectibles brand FOCO. The company introduces 30 to 50 bobbleheads a week, and its tens of thousands of followers know the minute the product is launched. If a bobble doesn't connect with the public, companies have instantaneous viral feedback that is replicated thousands of times. "It's a feedback loop, and if you're not immersed in all of it you will fail," he said. "You have to put resources into all aspects of the loop."
The Return of Experiences
The importance of experiences, along with best practices for bringing them back post-pandemic, was a recurring theme at the Expo. Topics of discussion included everything from "retailtainment" to smaller-format experiences to help keep malls afloat, to technology-driven experiences such as VR.
Many speakers agreed that virtual elements will have to be part of many experiences going forward, whether trade shows or consumer live events. "I can't imagine we will go forward without a hybrid of virtual and live," said Germaine Gioia, president of Playlife Co. "There were so many efficiencies learned. You need the live portion, but I think it will be a beautiful combination."
The downtime caused by the pandemic did not entirely go to waste, as experiential marketers used the time for planning, development, improvements in user experience, and negotiating deals for new live events. Rachel Terrace, senior VP licensing and brand development at Penske Media, said that, with no cruising for 18 months, Penske and Holland America spent time creating more compelling experiences for the Rolling Stone and Billboard cruises, from rethinking the design and creative work to updating the spaces on the ship.
Sherry Liu, VP strategy and business development at Nickelodeon, who works with experiences such as Paw Patrol Live, said she was contacted about many potential new partnerships during the pandemic, suggesting that live experiences will come back in big way when it is safe.
In fact, experiences are already opening, despite the continued uncertainty about the virus and the ever-changing safety rules and regulations around the world. A new theme park tied to the properties of artist Howard Robinson, known for his Selfies brand, opened this summer in The Philippines, according to his agent Anjar.
David Perez Balaguer, strategic director at Madhouse Production, which produces Marvel Mission escape rooms, among other experiences, reported that demand for live experiences remains strong, with conversations ongoing almost every day with operators around the world. He said that malls will be a good opportunity in the future, as the cinemas and retail outlets on which they depend have continued to struggle. They need to offer visitors something new, like virtual reality or location-based entertainment.
For that to happen, however, it will take mall retail companies, which tend to be very lease-driven, to look at their business differently, according to Stuart Rosenstein, managing director at 360 Brand Development, which licenses IP for experiences. They may have to coinvest in the product, with dollars, donations of space, or profit sharing. "The mall is a huge opportunity down the road if owners can think more creatively," said Rosenstein.
The Classics, Refreshed
An emphasis on nostalgic and classic properties, already a long-time trend, intensified during the pandemic as consumers gravitated toward properties that gave them comfort. One topic that came up during the show was how to keep such properties fresh while maintaining the characteristics that make them appealing to customers. At the Expo, some of the refreshed or relaunched properties highlighted included Garfield at ViacomCBS Consumer Products, King Features' Olive Oyl, WarnerMedia's Looney Tunes (thanks to the success of Space Jam), and WildBrain CPLG's Strawberry Shortcake.
One key is to let licensees and collaborators take some liberties with the property, as King Features did when it allowed Scotch & Soda to reimagine the Brutus brand. "In this day and age, you really have to do that," said Carla Silva, VP, general manager, and global head of licensing at King Features. "You have to create new collections people are not expecting."
The same is true of artist pairings. Susan Brandt, president of Dr. Seuss Enterprises, concurred. "You can't be precious with your license," she said. "You have to let it go. You have this fabulous artist and you have to let them play with it."
When traditional and conservative Yale entered the Korean market, where character licensing is so important, it took a different twist from its licensing efforts in other countries by taking Handsome Dan the bulldog, the oldest mascot in the U.S., making him more on trend, and creating a whole line of apparel. "It's become a stalwart of our licensing program in that market," said Paul Marawski, director of marketing and trademark licensing at Yale, noting that the mascot, created in 1899, is perceived as a modern character in Korea. The treatment has helped introduce the brand into other Asian markets, including China and Japan, as well.
Richard Dickson, president and COO of Mattel, described the relaunch of Masters of the Universe. The brand was ahead of its time in the 1980s, he said, with a TV series, films, and consumer products accompanying the toys. "It was groundbreaking. And the fan base has never stopped believing. It's got incredible fandom and avid fans." To bring back the property, keeping in mind what made it great in the past, Mattel enlisted director Kevin Smith to bring it to life as a TV series on Netflix. The company is now creating a "Masterverse" with a variety of other content and consumer products.
Dickson noted that creatives are generally excited to help rejuvenate these classics. "These brands are recognized by the creative community and we can tap into that nostalgia."
Driven by Diversity
 The topic of how to create a more diverse licensing landscape, both in terms of the people making the decisions and and in terms of reflecting the entire spectrum of consumers in products, came up often. "Consumers want to see themselves in consumer products and they want to see themselves reflected in marketing," said Ross Misher, CEO of Brand Central.
Probably the most notable reflection of this movement over the past year is in the increase in properties that depict diversity and inclusion or take on tough subjects relating to racial equality. Examples range from children's entertainment properties such as 9 Story Brands' Karma's World and Fred Rogers Productions' Alma's Way, represented by Brand Central, to Black celebrities such as Ghanaian-American chef Eric Adjepong, represented by Beanstalk and known for his West African dishes.
Art represented one property type where multicultural themes abounded. There was Americans Who Tell the Truth, represented by bCreative, a nonprofit organization centered on conversations about racial and social justice based on more than 250 portraits by Robert Shetterly. Black Paper Party is a Black-owned paper goods and holiday products company featuring imagery that resonates with Black consumers, represented by Brand Central. The Kinsey African American Art & History Collection is handled by Brand Liaison for licensing. And Jewel Branding & Licensing collected a group of its art and lifestyle properties under a multicultural brands category; IPs under that banner included EttaVee, Rongron DeVoe, Bouffants & Broken Hearts, Car Pintos, CreativeIngrid, Mia Charro, and Nikki Chu.
Just Play LLC spends time ensuring its products represent all consumers authentically, said Geoffrey Greenberg, co-president. One of its first products was its Doc McStuffins doll, which remains one of its top-selling products. More recently, it developed an African-American doll line with a variety of hair types, skin types, and body shapes. "But it also goes beyond that, into providing a welcoming and safe environment," added Greenberg.
Jasen Wright, VP and head of Wildbrain CPLG North America, stressed that the real test will be how consumers hold marketers accountable for their promises of diversity.
Other Themes and Trends
The speakers at Licensing U and the Expo's live and on-demand content, as well as the booth presentations, emphasized several other trends that have been part of the licensing conversation in the last year or more:
All the emotions. Social-emotional themes were abundant in the virtual booths, from positivity to mindfulness to learning to deal with emotions. Properties took a variety of forms, including apps (Goodthoughts Club, represented by Playlife and Pleywell), art (David Olenick, Jason Naylor, and Unicorn Yoga at bCreative), entertainment and publishing (BellaBooDC, Ninja Life Hacks at Brand Liaison, Rambee Boo), and fashion labels (Ivory Ella at Moxie & Co. and Maui & Sons at Seltzer Licensing Group). As Richard Dickson of Mattel said in his keynote conversation, "We're living in very heavy times and in some cases uncertain times. We're looking for fun, happiness, and levity."
The case for cannabis. A handful of exhibitors highlighted brands connected to cannabis, thanks to the recent legalization of adult recreational use in Canada and some U.S. states. They ranged from humor properties (Weedikulus at bCreative) to mindfulness brands (Hempathy at Beanstalk) to growers (Humboldt Family Farms at Moxie & Co.). Meanwhile, a few exhibitors were spotlighting recent deals for branded cannabis products, including Penske Media, whose Rachel Terrace, senior VP of licensing and brand development, mentioned its Rolling Stone cannabis line with Curaleaf's Select brand, and Trailer Park Boys, who highlighted their partnership with Hemptown USA in their virtual booth.
Korean exhibitors eye North America. Close to 30% of exhibitors were based outside of the U.S. and Canada, by our estimate. Of those, 57% hailed from Korea, indicating a big push by that country's animation, publishing, and other creative industries to make further inroads into the North American market. Licensing Expo Virtual followed, by one week, another event, 2021 K Story-Comics & Characters in America, which was a virtual showcase and sales platform for many of the same exhibitors. The most recent Korean hit in the US, Baby Shark, was also represented at the ViacomCBS booth at Licensing Expo; Baby Shark's Big Show! airs on Nick Jr.
Food brand dominance. By our count, approximately 26% of properties exhibited at Licensing Expo Virtual were corporate brands, with more than 41% of those being food, beverage, or restaurant brands. (Just under 16% of corporate properties fell into the second largest group, automotive and auto-related brands.)
This reflects a very active period for food-related brands, both in long-term brand-extension deals in the food/beverage category and in novelty, lifestyle, and collaborative merchandise. Todd Kaufman, VP of Beanstalk. pointed out that the consumer behavior changes of the pandemic led more restaurant brands to extend into the home through retail products, and that will remain the case going forward as consumers expect it.
Several agencies were touting food, beverage, and restaurant brands that were new to their rosters, including Beanstalk with Kellogg (for food and beverage brand extension), Brand Central with Mars Wrigley, and Seltzer Licensing Group with Naturipe, Blue Diamond/Almond Breeze, and Checker's & Rally's.
Anime. Anime properties stood out within the entertainment landscape at the show, with major players including Funimation, Crunchyroll, Viz Media, and Sunrise all pitching a range of IP. Several of the Korean exhibitors were also offering anime-style properties. Viz announced a raft of new licensees for JoJo's Bizarre Adventure, while Crunchyroll announced new licensees for a variety of its properties, including Cardcaptor Sakura, Haikyu!!, Jujutsu Kaisen, and the Junji Ito Collection, among many others.
Brian Ige, senior VP of animation at Viz Media, said the market has recently been driven by categories including high-end collectibles, collaborations with luxury goods and designer streetwear labels, technology, and e-sports. Noting the fast pace of growth for anime over the past five or more years, Ige said, "It's been a blessing and a curse to try to figure out how to deal with this growth so quickly."
Sustainability. Sustainability came up in nearly every conversation. Rather than focusing on sustainability as something of a design element in specific initiatives, as in the past, speakers recognized that sustainability has to be integrated into every part of a business. "Sustainability is not a trend, it's a business piller," says Jasen Wright, VP and head of North America at Wildbrain CPLG. "Consumers are looking for that and holding companies accountable."
Conversely, "consumers have called out retailers for offering sustainable capsules when they still sell fast fashion and stuff that is disposable," added Kaufman of Beanstalk.
Data informs initiatives. Speakers across the board stressed that any decision they make involves an analysis of data. "Data has become so integral in how we superserve our audience," said Pam Lifford, president of WarnerMedia Global Brands and Experiences, in a keynote.
That said, a few speakers offered a reminder out that data alone is not enough. "The data validates the gut instinct," said Andy Cohan, managing partner and co-CEO of ACI Licensing.
Continuous collabs. Panelists at several sessions focused on the importance of collaborations to reach new audiences, increase social engagement and conversation, create scarcity and urgency, surprise and delight, and test new initiatives. "The ROI on collabs is more about the halo and not the money," said Robert Marick, EVP global consumer products and experiences at MGM. He said his most successful collaboration, a Blue Velvet x Virgil Abloh collection, did not generate a licensing fee but brought millions of impressions. "That was priceless," he said.
Dr. Seuss Enterprises attracted 4.5 million impressions in a week for a collab with Stance, leading to a full program, and almost 30 million for a Lorax collab with Tentree apparel. "That's a positive return for us," said DSE's president, Susan Brandt. She noted that revenue-generation can be part of the mix as well, citing the Grinch collaboration with Kylie Cosmetics. "Then you're talking 1.2 billion impressions and a significant royalty return as well."
"It's cash versus cachet," said Ross Misher, CEO of Brand Central. "You're looking for great mashups that are unexpected."
New business models. The acceleration of new ways of doing business with partners was top of mind in many sessions, including the use of virtual approvals and product development, especially with trusted partners; the establishment of 3D and 2D print-on-demand capabilities around the world to create physical samples when needed; and virtual elements being integrated into trade shows even when live events return, among other changes. "We've all learned so much," said Germaine Gioia, president of Playlife Co. "In the end, it's been growing and building and gaining strength where you probably didn't have enough of it before."
Licensing Expo Goes Live for 2022
Informa Markets announced that, after two years of virtual programming, it plans to hold Licensing Expo in person in Las Vegas in 2022. The dates are May 24-26. The theme will be "Location-Based Experience," highlighted through activations on the show floor, the opening night party, business lounges, and immersive cafés. Stay apprised of updates here.
Licensing Week Virtual 2020:
Dealing with Disruption
Keynotes and presentations at Licensing Week Virtual, the first all-digital version of Licensing Expo (held June 15-19, 2020), focused on strategies for surviving the Covid-19 era, where uncertainty continues to reign. "We'll probably have to pivot two to three more times before the end of the year," said Trevor George of apparel licensee Trevco.
"Our contingencies have contingencies," added Zion Doran of Kellogg's.
Some of the themes that came up across the presentations and in interviews with show participants included the need for a more equal partnership between licensors and licensees, focused on support, flexibility, creativity, and speed to market; the role and power of licensing in uncertain times; and embracing the opportunities presented by digital platforms to sell products and engage fans.
"We're All in This Together"
Since Covid-19 hit, licensees are dealing with schedule changes, retailers going out of business, and orders being cancelled. All are squeezing margins and causing cash flow issues. As a result, licensees stressed the need for support and flexibility from licensors. "We have to help each other, and that goes both ways," said Jeffrey Fisher of Fashion Angels.
"Licensors need to recognize that the licensee is an extension of their brand and of their balance sheet," added Chris Volpe of United Legwear & Apparel Co.
"The best quote—you hear it a million times but it really applies at this time—is 'kindness goes a long way,'" said Timo Olkkola of Flowhaven, an attendee. "You find out who are the true friends that stick with you in the hardest times."
Desired contributions from licensors, beyond what is specified in the contract, range from creative support and social media exposure to quick turnarounds on approvals and a loosening of the reigns when it comes to distribution or asset restrictions. Licensees are also seeking flexibility on payment structures, including:
Lower minimum guarantees. "We're looking for partnership, not giant MGs," says George, who notes that sharing risk and supporting each other will lead to a product line that "blows out of the water" and makes the MG meaningless. Options discussed by panelists included lower MGs overall, in conjunction with more marketing support from licensors; lower or no MGs at the start of the deal, with higher payments kicking in when certain milestones, such as mass or mid-tier distribution, are met; and longer recoupment times. The MG is more of a concern than royalties, which continue to stay level or even rise, licensees said.
A more licensee-friendly definition of net sales. This is always a point of contention in contract negotiations but particularly now. One panelist noted, for example, that uncollectible royalties—due to a retailer going out of business after product is shipped, an increasingly common problem today—should be an allowable deduction.
A rethinking of FOB rates. Licensees argue that while FOB made sense when implemented initially, there is no reason for a different FOB royalty rate anymore. They feel the rate penalizes them unnecessarily. Paul Cosaro of Picnic Time, a marketer of licensed picnic supplies, barware, and wine baskets, noted that if the FOB rate is too high, so licensees can't hit their price point or absorb the hit to the margin, the deal won't happen, particularly in the current climate.
Help on tariffs. Transparency is key here, as licensors may be willing to accept some of the burden of tariffs if they have a breakdown of specific costs and how the tariffs impact the economics of all players.
Distribution is also an area of concern. Some licensees are opting not to sell to retailers they believe are at risk of shutting down or not paying, and they want licensors' backing on that. They also do not want strict limits on where they can sell. "The days of caps on distribution are going away," Volpe said.
Jeff Siskind of Castlewood Apparel Group agreed. "Let [licensees] go where the business is," he said. "Let them put up the stats."
Loosening restrictions on design and asset use is also important, explained Jack Gindi of Ground Up, who noted that being rigid on limitations can lead to the loss of ancillary or unexpected opportunities.
Licensees are also looking for simpler contracts, explaining that 20- to 40-page agreements contain too many rules and caveats. "It's too hard to manage and it's a roadblock to success," said Cosaro. "We want more simplicity."
George noted that streamlining all aspects of the licensing process is key, as everyone is doing more with less. Will a phone call work rather than a fancy deck? Is a designer needed, or can technology take over that role in some cases?
Being brutally efficient when it comes to assortments is also critical, as are innovation, speed to market, and the ability to pivot quickly to take advantage of categories and opportunities that are working. Trevco's sales dropped 60% during the first three weeks of the crisis, but it was able to launch its Mask Club face mask program just four days after having the idea. With $0 spent on marketing, it generated 2 billion media impressions and attracted 1 million unique visitors, not to mention spurring strong sales that continue today.
Innovation is more important than ever in the current landscape. "Four years ago when we started, innovation was light-up shoes," said Gindi of Ground Up. "We never want lights, we want interaction." He reported that all of his products feature some sort of innovation that complements the property, from reversible sequins for JoJo Siwa's shoe line, to elements that can be taken on and off for L.O.L. Surprise!
That theme continued into other panels. Julie Newmar of Jewel Branding and Licensing citing Caswell Massey capturing the essence of flowers growing at the New York Botanical Garden to put into its body and bath products. "That's a good story to tell," she said. And David Stark of art-licensing agent Artestar mentioned a drop of 35 handbags created through a collaboration between his client Keith Haring, luxury e-commerce site 24 Sèvres, and fashion label Proenza Schouler that incorporated a never-before-used Haring image.
The ability to innovate and get products to market quickly comes back to the need for licensors to supply assets on time and complete approvals quickly. "That's still a big problem, even now," said Cindy Levitt of Mad Engine. "The larger companies 'get it,' but the deliverables are the problem."
Licensing in the Time of COVID-19
Several speakers noted that licensed properties, particularly evergreens, have been performing well during the pandemic, and that those are the kinds of licenses that will be sought-after going forward. This is true even in the digital space, which is typically more associated with in-and-out properties and products. "We may miss a Despicable Me, but so be it," said George.
When it comes to selecting properties, licensees are putting a premium on the working relationship with the licensor. "You have to look at the ROI versus the work you're putting in," said Fisher, who also points out that any licensed line must fill a white space at retail in order for it to be viable.
Conversely, licensors are also reconsidering the companies that are best to work with. "For the last five years we've been rethinking partnership and how our partners can help us," said Scott Chambers of Sesame Workshop, who was featured in a presentation on "Doing Well by Doing Good." He said the areas of focus included not just how the Workshop identified partners—prioritizing mission-based companies—but also what the messaging will be and the timing. "It's been a lot of soul searching," he said. "It sadly involves saying no to a lot of things."
One topic that came up often was the role of licensing in helping families manage the societal upheaval that characterizes 2020. Licensed products have been helping families deal with the coronavirus, from plush dolls with masks that help reduce kids' fear of their own, to Sesame Workshop's CNN Town Hall, "The ABCs of COVID-19," which boosted audience numbers for Sesame Street by 20% and led to a second Town Hall, "Coming Together: Standing Up to Racism."
Sesame Workshop has partnered with companies like DIFF, Bombas, Tom's, and Champion. With Squarespace, it did a promotion in which Oscar turns his trash into treasures in a campaign that encouraged recycling while being on-brand for both companies. In each case, "we leaned into each other's mission," according to Chambers. "The success has surprised us, and we will do more of these. One key lesson is that mission-based licensing can resonate more fully during rough times. How can we help our nation heal and come together and face its issues head on?"
Companies' embrace of social issues is a big change from several years ago. WNBA player Renée Montgomery, who is taking a year off to focus on social justice issues and spoke on a panel about group licensing of athletes, pointed out that in 2016, when WNBA athletes wore "I Can't Breathe" t-shirts during warm-ups, "it was a big deal," with significant backlash. In 2020, on the other hand, when Montgomery wanted to support protesters in Atlanta after George Floyd's death in police custody, and later on Juneteenth, she and her foundation reached out to Defiance Fuel, which immediately sent her 10 cases of water to hand out along with sandwiches.
"Consumers require that brands take not only positions, but that they take action," said Michael Stone of Beanstalk. But, he cautioned, "it can be a slippery slope for brands. It will make some customers happy and offend others."
Digital Platforms at the Forefront
While there was naturally some discussion about retail woes, more focus during Licensing Week Virtual was placed on opportunities presented by digital commerce and marketing.
A large number of speakers mentioned the growth in consumers turning to ecommerce during the pandemic, as well as their own efforts to create a more strategic ecommerce business. One of the themes was that ecommerce is about much more than sales. "No matter where they shop, consumers check ecommerce first," said Matt Bonaccorso of Discovery. "It's one of the best direct checkpoints with families."
It is particularly important to have a dedicated ecommerce presence, even though that platform accounts for fewer sales than platforms such as Amazon. A company-controlled presence allows for a conversation with consumers and the opportunity to create better content and products because of that. "This is a testing lab for us," Bonaccorso says, citing the example of women's apparel and hats for the Discovery reality series Gold Rush, developed after fan interest became evident through the site. The branded site also connects the company's ecommerce capabilities with its streaming content and gives the licensor ownership of the customer. The site also drop-ships merchandise to support on-site merchandising at fan events such as Investigation Discovery's IDCon.
Marketplace sellers have become a concern for licensors and licensees, especially since Amazon came onto the scene, both in terms of counterfeiting and adhering to territorial rights. "Licensors are telling us not to allow marketplace sales, to clean it up or else, but we can't. It's not under our complete control," Cosaro says. "The licensor has to work with the vendors on Marketplace, not just us." Licensees also report that products meant for sale in the U.S. are starting to show up on Amazon U.K. and other global platforms, another difficult situation to track and fix.
The ability of ecommerce, social media, or content platforms, such as publications or streaming entertainment, to drive product development and support licensed product sales was another theme of the virtual show:
PopSugar and Kohl's used fan insights to crowdsource silhouettes, trends, and patterns for their size- and price-inclusive apparel line, which led to a 3,000% increase in traffic to Kohls.com, according to Taylor Carlson of PopSugar licensor Group Nine. The assortment includes 25 SKUs dropped monthly and has led to the creation of 4,000 pieces of content to support the line, generating 60 million impressions.
Buzzfeed's Tasty kitchenware at Walmart incorporates fan feedback to continuously fine tune the line. Consumers asked for bigger and bolder color, for example. When implemented, the change led sales to double-and-a-half over the six months, according to Eric Karp of Buzzfeed.
A Marc Jacobs x Peanuts collaboration relied heavily on social media impressions through the fan-based Instagram handle @SnoopyGrams and the more commercial @SnoopyinFashion, as well as on Jacobs' social media platforms. Several posts on each led to hundreds of thousands of views, numerous celebrity postings at the hashtag #peanutsxmarcjacobs, and sell-outs of merchandise, reported Roz Nowicki of Peanuts Worldwide.
A number of speakers highlighted the importance of celebrity influencers to drive fan engagement and product sales. A panel on group licensing of athletes emphasized the importance of active licensing rights, which focus on the participation of the athlete, versus passive rights that involve product only. Terese Whitehead of the NFL Players Association cited the example of NFL running back Saquon Barkley Facetiming with a fan who bought one of his jerseys.
The show itself provided another illustration, as NFL player Mark Ingram held a virtual workout for attendees during Licensing Week Virtual. "In terms of the licensees and brands working with professional athletes, the virtual workout is a good case study in how brands should think differently about working with the pros," said John Fitzpatrick, marketing manager at NFLPA. "Mark invited us into his home and shared some workout routines, so as a fan of football, it was fun to get a glimpse into his daily life."
One observation that came up more than once was the decreasing importance of the licensor's retail team, in the eyes of licensees, compared to their digital marketers, digital retail teams, and social media specialists. "We don't get a lot of business from licensors' retail teams, but when Disney posts our product on Instagram, it's the best," says Gindi of Ground Up.
Licensing Week Virtual 2020:
Adapting to a New Format
As a first-time event, Licensing Week Virtual, held June 15-19, 2020, attracted mostly rave reviews from exhibitors and attendees, especially given the short timeframe available for show organizer Informa Markets to put it together. Although there were some technical glitches and reports of problems using the interface, the majority of participants seemed positive about the experience as a whole.
"It was different, but it worked," said Stu Seltzer of Seltzer Licensing Group. "It was more productive than I expected."
"I was a little skeptical, because these things don't happen overnight," added Timo Olkkola of Flowhaven. "I was surprised by how well it was done in such a short time. It was as close as possible to the real thing."
Licensing Week Virtual included an exhibit hall, where each of the show sponsors had a booth. Visitors could view sales videos, trailers and content clips, white papers, brand decks and one-sheets, case studies, user guides, how-tos, social media and website links, lists of collaborations and licensees, and style guides, among other content. A theater included all of the keynotes and presentations, with topics ranging from several panels on "What Do Licensees Want?" to "The Future of Consumer Products and Retail: Top Industry Execs Share Where We Go from Here," as well as Licensing University. A break room featured sessions including trivia, meditation, and a workout with an NFL player. Visitors to the digital show could spontaneously chat with other attendees who were online at the same time, and with company representatives in the exhibitor booths. A separate and parallel matchmaking service hosted preplanned, half-hour-long, one-on-one meetings.
Sponsorships, which included not only a booth but the opportunity to introduce, lead, and/or participate in one or more educational sessions, were limited to 30, a number that Informa says may increase in future events. Licensing agencies accounted for 40% of the 30 exhibitors, with licensing management platforms, entertainment licensors, and video game publishers also well represented. A fifth of sponsors were based outside of North America.
The reduced number of exhibitors eliminated the opportunity for attendees to browse for unknown properties and spot trends, one of the benefits of a physical trade show. That said, the cap on exhibitors was a positive for the sponsors, who seemed happy with the exposure. "I'm glad it was a limited number of sponsors," said Linda Morgenstern of Beanstalk. "It would have been unwieldy otherwise."
Like a traditional Licensing Expo, a number of exhibitors sent out press materials and received press coverage in licensing business trade publications and in some cases on other outlets such as CNN. "It created buzz in the industry and let manufacturers and retailers know we're still licensing brands and properties even if we're not in Vegas and in the midst of a pandemic," Morgenstern said.
The publicity value was certainly less than for a live show, however. It is harder to generate awareness for a virtual event in a landscape where there is so much clutter from competing webinars and other online content and events, not to mention abundant Zoom calls. Conversations with licensing executives, sponsors, and attendees suggests that, even within the licensing community, a surprising number of people did not know about the show and/or missed the dates, despite the large number of notices sent out by Informa in the month or more leading up to the event.
Making Connections
The composition of attendees seemed to differ at the virtual show compared to the live event. Total attendees numbered 4,431, according to Informa. That compares to 16,000 attendees at Licensing Expo 2017, the last year official attendance figures were released. Informa said each visitor viewed seven pieces of content, on average, for a total of 32,710 content views.
Attendees spent 13 hours and 23 minutes on average on the 6Connex platform, which hosted the booths and educational content but not the matchmaking meetings. Regular day-to-day work frequently took attendees and some exhibitor staffers off the "show floor," according to sponsors and attendees. Many attendees seemed to be keeping the site open while doing other things, leading to a lack of response to chat requests and a number of individuals spending hours in a single booth without interacting. Many attendees also reportedly did not set up a profile in the matchmaking service, which limited meeting potential.
While the continuation of daily life in parallel with the show makes the virtual event much less immersive and focused than the live version, it also can attract new faces. "One of the advantages of a virtual show is that it's easier for someone to drop in for just a day or even only part of a day without having to worry about travel time and costs, so we were able to connect with some people who perhaps wouldn't have attended a live Expo," says Carole Postal of Spotlight Licensing and Brand Management.
The number of entrepreneurs, artists, and companies from outside North America seemed to index much higher than for a physical Expo, with free registration for attendees and lack of travel expenses enticing first-timers to the virtual show. Some of these attendees noted that they were able to set up matchmaking meetings with executives who might not have been open to meeting with them at a live Expo.
On the licensee side, there seemed to be fewer attendees in certain categories, such as food and beverage and hard goods, according to sponsors and attendees, as well as very few retailers. Exhibitors reported meeting with more people in international territories and in niche categories than they would at a physical show, and were introduced to companies they had previously not heard of, all of which had value.
Some exhibitors reported as many as 1,000-plus booth visitors, and a similar number to their presentations, both significantly higher than at a live show. "We had two [staff] people in the booth all the time, for 16 hours a day for four days, and it wasn't enough," said Marty Malysz of Dependable Solutions, Inc. "We were not prepared for that many visitors."
Informa reports that 3,605 matchmaking meeting views occurred at the show, with 2,933 matchmaking meetings attended. The latter number amounts to an 81% conversion rate, which is in line with the physical show.
Because of the focus on matchmaking as one of the key elements of Licensing Week Virtual and the increased number of hours available for meetings compared to a physical show (16 per day to accommodate different time zones), several sponsors and attendees said they had up to 50% more meetings than at an Expo. "It was a different type of meeting than in a booth," said Carlin West of the Carlin West Agency, which was exhibiting on behalf of its client Jumpstart, with a focus on NeoPets. "It was one-on-one and very focused, with no distractions. The meetings I had were super focused on my brand."
"There's nothing quite like in-person meetings, but I do feel the virtual format was a really strong alternative, especially in the current times," said Ilana Wilensky of Jewel Branding and Licensing. "I think the most beneficial part for us was having a platform and focused event that prompted everyone to engage in discussions about new opportunities. We did get a lot of booth visits and definitely some strong leads."
Many of those who engaged with the virtual show lamented the lack of face-to-face interaction and spontaneity that only a live show can provide, including:
Team and partner building. "What was missing was the opportunity to engage with clients and our team," said Malysz. "There were no local events or dinners out."
Spontaneous engagement. "At the live show, there are so many events and opportunities to run into someone in the evenings, especially since the move to Mandalay Bay," West said.
Deeper dives. "A live Expo is a better opportunity for us to get a sense of what a potential licensing partner needs as well as how (and which) client properties might work best for them," said Postal.
Unplanned contacts. "You don't get the serendipitous drop-ins that you would at the live show, which can sometimes be very valuable," Morgenstern said.
Real connections. "It's hard to replicate [Mandalay Bay bar] Eye Candy online, and hard to replicate the meaningful meals," said Seltzer.
Some spontaneity was possible, however. While most of Flowhaven's focus was on matchmaking meetings, there was also a strategic effort to keep an eye on attendees and reach out for unplanned chats. "The spontaneous element was something I did not expect," said Olkkola, who added, "That's the best part of the physical show. You can be walking the hall and run into someone and that turns into the best deal ever."
Virtual Value Proposition
The ultimate gauge of success for exhibitors is the number of deals spurred by the event, versus the cost. "At one-tenth the cost it was extremely economical," reported Malysz of DSI, which paid $7,500 as a Gold sponsor, the middle tier. "At the Expo we get 100 to 200 leads and 10% to 20% of those are well qualified, so it pays," he said. "Between booth visitors and people that interacted with our webinar [at the virtual event], we got a lot of leads, but we don't know if any will pan out. There's incredible exposure, and a lot of the people that came never travel to the Expo. In some ways it was more of a marketing event and not a trade show."
While some exhibitors felt they secured strong leads, others were more skeptical. "The quality of new business prospects was not nearly as good," says one employee of a sponsor company, characterizing most as lower B to C-level players versus the A to B players seen at the Expo. "It's still valuable to connect with people in niche categories," he added.
At press time, exhibitors did not have full data about visitors to their webinars and booths, and will need time after they receive it to determine how many of those contacts are serious. "The lower cost was a 'pro' as there was no travel expenses or booth building expenses," said Seltzer. "In a month we'll know what kinds of leads will be converted. If we don't close one deal, then the price isn't worth it."
Informa has said that any future live events will likely have a virtual component. One element that is a candidate for that transition is the educational content. "I always feel bad that I can't go to the seminars at Licensing Expo," said Olkkola, who was able to view several at the virtual edition.
Many exhibitors and attendees agreed that the educational content and keynotes lent themselves well to the online environment. "It would be great if live keynotes and panels could be made available online for remote and delayed viewing the same way the digital ones were for this event," Postal said.
Some also thought a digital event in advance of the physical show would be beneficial for prequalifying leads digitally prior to the physical show and to capitalize on opportunities to connect with start-ups, smaller companies, players outside North America, and niche opportunities they are less likely to see at a physical Expo.
"While a few of us may be experiencing 'video meeting fatigue,' I think we can re-evaluate how we conduct prospect and partner meetings," said John Fitzpatrick, marketing manager at the NFL Players Association. "Budgets could shift as more prospect and partner meetings could take place via video calls, enabling dollars to be spread to other areas of the business."
He also has a caveat. "As a standalone event, [the virtual show] could be repeated, perhaps taking place mid-year, but it would need to be shortened to one to two days max," he said. "With Licensing Expo, you are so immersed in the show, that the rest of your work can wait. In a virtual event, while attending from home, there are competing priorities for your time and attention."
Some exhibitors and attendees may rethink their presence at the live show if the virtual version goes on in some form. "For one of the bigger booths, you can pay $100,000 for a three-day event," West said. "Do you need to do that? No."
Malysz reported that DSI is reducing the size of its booth at next year's live Expo, from 20×30 to 20×20, in anticipation that there will be some sort of virtual event in conjunction with the live show.
"I do feel like virtual shows will be part of our world in the future," said Wilensky. "I'm not sure it will replace live shows entirely, but this show has proven that it can be a very effective tool with considerably lower costs."
Most participants agreed it would be difficult to transition to a virtual show only. "It can't replace a physical show since the industry is founded upon face-to-face interaction," said Olkkola. "There was not the buzz. The [live] environment itself calls you to make deals. The digital show can't do that."
Licensing International Expo 2019:
Consolidation, Cannabis, and More
The consolidation among studios', networks', and digital gaming companies' licensing operations into fewer, bigger players was on vivid display at Licensing Expo 2019, held in Las Vegas June 4-6.
For the first time, all the WarnerMedia-owned licensing entities, Warner Bros., Cartoon Network, and HBO, were sharing booth space, with the various players in discussions about how to maximize synergies between the three going forward after AT&T's acquisition of Time-Warner. Similarly, Nickelodeon, Comedy Central, MTV, and Paramount all shared a booth under the Viacom and Nickelodeon Consumer Products banner, also for the first time, having recently integrated their respective licensing functions. All of Sony's various licensing-related divisions also shared space, namely Sony Pictures Consumer Products, Sony Interactive-Playstation, and Sony Music.
Meanwhile, Twentieth Century Fox's licensing operations have been integrated into Disney Parks, Experiences, and Products. It becomes the latest company to join Lucasfilm, Pixar, and Marvel alongside Disney's core branded properties. All did their Expo business off the show floor, as has been Disney's custom recently.
This is not the first year such consolidation has occurred at Licensing Expo; Universal/Dreamworks and Activision/Blizzard are two of the most recent examples. But the amount of change and consolidation this year was notable.
A parallel trend: Licensing activity seems to be on the rise for small and medium-sized studios that are not part of big U.S. entertainment conglomerates. MGM is reinvigorating its licensing business in North America, exhibiting at the show with other Brandgenuity-represented properties. Miramax recently retained exhibitor White Space Entertainment to represent its properties for licensing. Meanwhile, Legendary Entertainment, a subsidiary of China's Wanda Group, and Lionsgate were also touting their films and TV shows, both archival and new.
Cannabis: Focus on Education and Exploration
Show organizers put an emphasis on the hot topic of cannabis, including both THC- and CBD-related properties. The intent was more to educate than to make deals in this early stage. In addition to a seminar at Licensing International's Licensing University, there was a Hemp and Cannabis Marketplace that consisted of 12 brands with mainstream licensing potential. They were featured together in a series of small displays, with industry executives on site to answer questions. The pavilion seemed to generate significant interest among licensees and other potential partners.
The brands included cannabis-centric lifestyle brand PRØHBTD; holistic women's personal care brand Hempathy; The Patch Co., maker of a fashionable transdermal CBD patch; Ceeby Dee's hangover and energy tinctures; Heavy Grass, a lifestyle and experiential brand; edibles and HBA company CBD Living; cannabis candy company Kiva Confections; Soko Cannabis Creations, which markets everything from vapes to edibles; edibles marketer Legion of Bloom; Foria Wellness, a health and intimacy brand; Jushi's Mend brand of doctor-approved CBD tincture, capsules, lotions, and lozenges; and Futurola USA, a maker of rolling devices and supplies.
Outside the Marketplace, a few booths were also touting cannabis-related brands and activities. Beanstalk just signed to represent PRØHBTD and its Hempathy and Ceeby Dee's consumer brands, planning to extend them into lifestyle and other categories.
Meanwhile, Authentic Brands Group (ABG) and its partner Tilray hosted a CBD wellness pop-up to educate fans, preview branded products, and give out samples. In January of this year ABG and Tilray signed a revenue-sharing agreement to develop and market consumer cannabis brands that pair Tilray's cannabis industry knowledge and ingredients with ABG's portfolio of properties. Deals under the partnership to date include Thalia Sodi with ICC International for a line of CBD beauty products and Greg Norman with GGB Beauty for a CBD personal care line for active men and women.
The Pendulum Swings Toward Underserved IP
Entertainment/character programs tend to alternate over time between strategies focused on investing in and focusing on primary properties on the one hand, and strategies aimed at maximizing opportunities for underexploited, archival, and secondary IP on the other. The pendulum seems to be swinging toward the latter this year.
Hasbro is delving into its archives to reintroduce some of its classic brands, including Micro Machines, which is being relaunched with Wicked Cool Toys, and Tonka, which is being refreshed by Basic Fun in its original steel version. These and other brands, such as Pound Puppies and Lincoln Logs, will be marketed both to nostalgic adults and to today's children through licensing, both in core toy categories and extensions into other products.
Dr. Seuss Enterprises was touting newly developed sub-brands such as the Seuss Steam School for education, Oh the Places….Travel, Seuss Chef for cooking and kitchen categories, and Thing 1 and Thing 2 for their wacky humor. All will encompass publishing, licensing, experiences, and promotions. DSE is also looking at secondary characters for potential expansion, including Cindy Lou Who, The Grinch's dog Max, and Sam from Green Eggs and Ham, all of which are featured solo in a new series of board books from Random House.
Sesame Workshop is preparing for the Year of the Monster, based on the bestselling The Monster at the End of This Book, a classic book that has become a publishing franchise, starring Grover. An animated TV special, short-form content, and additional publishing tie-ins part will be of the mix. The venture is expected to be the first of a number of annual brand initiatives aimed at raising the profile of characters or sub-brands beyond the top sellers.
Other spin-offs and refreshes include a new licensing effort for Goofus and Gallant, the comic strip characters from Highlights magazine, which will be licensed in both their retro form and as urban millennials; Nickelodeon's SpongeBob, which will follow up on its 20th anniversary with a new prequel TV series inaugurating multiple planned spin-offs; and MGM rebooting the Pink Panther brand in the U.S., where it has almost no licensing activity despite being a $1 billion annual franchise in the rest of the world.
Influencers and Internet Properties Go Mass
Licensing executives often point out that children live on YouTube and other streaming platforms rather than television these days. Yet online distribution still represents a fragmented market that drives mostly niche licensing efforts (with some exceptions). As a result, several licensors of Internet- and mobile-based properties announced before and during the show that they were pairing with traditional media companies.
Nickelodeon is one traditional media company making a big investment in bringing such properties to the traditional media space, signing Pinkfong's Baby Shark, Ryan's World, and Mexican YouTube star Isabella de la Torre (La Bala) for entertainment productions and licensing. These properties hope to follow in JoJo Siwa's footsteps as successful YouTube-turned-Nick TV stars.
Similarly, Nelvana announced that it would be working with LINE Friends, the Asian messaging app characters and now lifestyle brand. It will develop and co-produce an animated TV series and distribute it locally (outside of Korea, Taiwan, Russia, and the Commonwealth of Independent States). It will also represent LINE Friends' Brown & Friends brand, aimed at millennial consumers, for licensing in Canada, with pop-up shops of branded and collaborative merchandise planned.
Location, Location, Location
Naturally, experiential licensing and location-based entertainment were common topics of conversation, as has been the case for several years.
Hasbro recently broke out oversight of its location-based entertainment activities to a dedicated global team, and has announced a number of ventures recently, including a themed water park featuring properties such as Nerf, Monopoly, and My Little Pony in Malaysia with Meridian Berhad; multi-property family entertainment centers in the U.S. and Canada with Kilburn Live; and Nerf Action Xperience locations with Kingsmen Creative, first in Singapore and then in the U.S.
MGM is also looking to new experiential ventures, after a hiatus of about 12 years since the last initiative, viewing location-based entertainment as a big driver of the rejuvenation of its properties in North America. And a number of other studios and entertainment licensors announced new experiential ventures, ranging from Cloudco partnering with Falcon's Creative Group for Care Bears entertainment and retail venues to Endemol Shine pairing with Eatwith for culinary experiences such as food tours, cooking classes, and dinner events. Universal Brand Development was touting the Trolls Live! world tour with VStar Entertainment Group, which was announced in April.
The profile of experiential properties with outbound licensing efforts was also high this year. While almost all of the properties have been at the Expo before, their booth presence is growing. Examples include wrestling events such as WWE, New Japan Pro-Wrestling, and the luchadores of Masked Republic (at Firefly Brand Management); extreme motor sports brands such as Monster Jam, MotoGP, and Nitro Circus; and other experiential licensors, such as MWE Live, a producer of Margarita Wresting e-sports experiences, and Ringling Bros. Barnum & Bailey Circus, which, like Monster Jam, is owned by Feld Entertainment.
A Multifaceted Approach to Diversity
The presence at the Expo of properties for Hispanic consumers continues to grow:
Bilingual properties focused on preserving Latin-American culture, traditions, and role models among Hispanics in the U.S. include Canticos, a music-based brand for preschoolers licensed through a partnership with Nickelodeon, and first-time exhibitor Lil' Libros, a publisher of bilingual books about important Latin-American figures and traditions.
Entertainment properties for a mainstream audience featuring Latin themes range from Sony Pictures Consumer Products' feature film Vivo, which is about the lead character's journey from Cuba to Florida, and the upcoming Nick Jr. series Santiago of the Seas, which follows an eight-year-old pirate while educating about Latin-Caribbean culture and Spanish language.
Food and restaurant brands with resonance for Hispanic consumers include La Flor Spices, a 50-plus-year-old company based on Long Island, and Trejos Tacos, a chain with eight locations (seven taco stands and one donut shop) in Los Angeles, represented for licensing by The Sharpe Co.
Meanwhile, ethnicities and cultures portrayed in character/entertainment properties available for licensing in the U.S. are expanding. Some are made in America while others are from other countries and are gaining fans in the U.S. through distribution on Netflix or other streaming platforms.
Some examples: Luo Bao Bai from Chinese studio Magic Mall, which was exhibited at the booth of its global distribution and merchandising partner 9 Story. It has TV deals in place across a number of countries, as well as secondary distribution globally on Netflix. Disney is preparing a Disney Junior show for a 2020 premiere called Mira, Royal Detective, which is set in a fictional land of Jalpur and inspired by the culture of India. And Adorned by Chi is a lifestyle brand and graphic novel-driven character universe set in Africa, created by a Dallas start-up.
Random Observations and Insights
Other trends and themes noted at the Expo this year:
Although some emoji-related properties that had exhibited previously were missing this time around, properties based on emojis and emotions were abundant. Kakao Friends, the Korean messaging stickers, joined the similar LINE Friends characters with a big exhibit. Smiley and the Official Emoji Brand were present as always. Celebrity emojis included Kiss at Epic Rights. Classic properties associated with a range of emotions included old-timers such as Care Bears and Mr. Men, joined by newer exhibitors such as Live A Widdle at Red Truck Licensing Group and DJ Design & Joy.
Japanese culture in the form of manga, anime, and videogames is as strong as ever, with a presence around the Expo and several deals announced just before and during the show. Crunchyroll, which represents properties including Yuri!!! On ICE, Bananya, and many others, signed with Bioworld Merchandising for lifestyle apparel and accessories; Manga Entertainment retained Reemsborko as its global agent for Cannon Busters, an original manga-style comic book-based miniseries on Netflix, with Hot Topic set to carry apparel; Viz celebrated the 20th anniversary of Naruto; and Konami announced new Yu-Gi-Oh! products, including cereal.
Music seemed especially prominent as a key selling point in a number of entertainment properties, from the music of Lin-Manuel Miranda (of Hamilton fame) in the feature film Vivo and that of Justin Timberlake in Trolls 2, to apps, TV series, influencers, and more.
Mini-collectibles maintained their importance as both licensed properties and as licensed products, being featured at the booths of all the toy companies and many other exhibitors as well. Examples ranged from Goliath and Magic Box International's Superzings to Tokyodachi's collegiate mini-figures.
The art pavilion is dwindling away. It is true that some traditional art agents have been expanding their presence at the show, often moving out of the art area in the process; examples include Art Brand Studios and Jewel Branding and Licensing, as well as The Buffalo Works, which has also been diversifying into other property types. But the number of artists and agents exhibiting overall has declined significantly. Many did not exhibit last year due to the overlap of the art and design show Surtex with Licensing Expo, and they did not come back in 2019 when the two shows were scheduled nearly four months apart.
Changing Business, Changing Show
The traffic in the show aisles seemed particularly light this year, according to most exhibitors and attendees and our own observations. On the first day, Disney—not an exhibitor but holding summits in nearby meeting rooms during the show—pulled many people off the floor. But the consensus was that traffic in general was down, although there were bursts and pockets of heavy crowds. There were also noticeably fewer booths, not just because of the studio consolidation mentioned earlier but also due to the disappearance of some exhibitors.
A significant portion of the show floor was devoted to networking areas with tables and chairs, cafés, and seminar and presentation areas for Licensing University—located on the Expo floor for the first time—and License! Global. All the activities gave the show more of a community feel, but also called out the lower booth count.
Most of the exhibitors that were on site said they had a productive show. Several reported prescheduled meetings in which deals were being done, albeit with i's and t's still needing to be dotted and crossed. And unscheduled visitors were mostly serious prospects, booth holders said.
There was a lot of unprompted discussion about the value of the Expo, however, with exhibitors often bringing up the high cost of their presence. Costs mentioned ranged from $50,000 to $70,000 for small to mid-sized independent agents with larger booths, to $1.2 million for an exhibitor in the studio/network class, including costs of the booth and correlating events. Several said they were considering whether it's still worth exhibiting, especially given the drop-off in foot traffic. Some were talking about whether co-exhibiting with a like-minded colleague might be prudent, or whether just attending, holding meetings but not exhibiting, would be the way to go.
Much of this discussion is rooted as much in the changing nature of licensing as in concerns about the show itself. The challenges facing the Expo also parallel those of other trade shows, which are similarly trying to figure out how to reposition themselves for the future.
Licensing International Expo 2018:
E-Commerce, Streaming, and The Power of Amazon
Amazon dominated the conversation at this year's Licensing Expo, as it launched Merch Collab, billed as a platform for licensors to sell printed-on-demand products incorporating user-generated content from prescreened designers that does not violate any laws or corporate restrictions. Announced during Amazon's keynote presentation, the initiative is being pioneered by licensors such as Cartoon Network, CBS Consumer Products, and influencer Shane Dawson. Amazon executives were at the show selling the concept to other licensors.
The platform, in conjunction with other Amazon initiatives such as Amazon Stores and Merch by Amazon, presents a number of benefits for licensors in terms of speed to market, product development, consumer research, and customization, according to those involved with the program. But some licensing executives are also concerned about Amazon's growing power, among other factors. (RaugustReports will be taking a more in-depth look at Merch Collab in the coming weeks.)
Coincidentally, another bit of less-noticed but significant news involving an e-commerce power came out while the show was in session. Fanatics announced it would be the exclusive manufacturer and distributor of all Nike-branded, NFL-licensed merchandise, aside from children's and on-field products, in a 10-year licensing deal. Part of the impetus from the NFL's point of view was to be able to move quickly to capitalize on the hot-market opportunities that are so important in licensing today.
The Fanatics and Amazon moves reflect the growing importance of e-commerce, not just for convenience but for its ability to allow licensors and licensees to react more quickly to market conditions and to provide the much wider product assortment that consumers want and traditional retail cannot accommodate.
Can Streaming Drive Sales?
The ubiquitous signage touting streaming distribution for entertainment properties on Netflix, Hulu, Amazon, YouTube, and others continues. "Streaming is having a dramatic impact on how we think about everything," says Scott Chambers, senior VP of North American media and licensing at Sesame Workshop. "It's a new source of funding and distribution. But it's also more competition, and no one knows yet if Netflix can drive sales."
While some streaming series have been airing long enough to generate data on their impact on licensed product sales, there does not seem to be a consensus on what that impact is. Some owners of franchise properties with new streaming exposure said in interviews that there was no perceptible change in sales of licensed merchandise, while others saw a distinct uptick. Success rates were similarly varied for non-franchise-based, streaming-only properties.
Of course, it is hard to pinpoint the effects of streaming precisely, given that it almost always represents just one aspect of a property's marketing and entertainment ecosystem. "Streaming is gaining more traction all the time, but there are too many touchpoints to see if there's a strong correlation," says Simo Hämäläinen, head of brand licensing at Rovio.
"Appointment viewing used to be the big gun," adds Amory Millard, co-owner of consultancy Manson & Millard. "Now you have to make up for the lack of that focused experience with a continuum of less focused experiences."
Speaking of Amazon's growing power, one wrinkle that came up in conversation often at this year's show was that securing distribution on Amazon Prime can be problematic for licensors and licensees, even as it gives exposure to a property and can spur e-commerce sales on Amazon. Several companies reported that Walmart had opted not to carry products tied to shows distributed by its competitor Amazon, for example. Others said they are changing packaging to feature phrases such as "now available for streaming" rather than "now available on Amazon Prime" to address retailer concerns.
A Reaction to World Events?
Several trends noted at the Expo could collectively be seen as a reaction to some of the divisiveness that has been prevalent across the global news landscape in recent years.
First, branding, messaging, promotions, and design elements celebrating people's differences were on the rise. For example:
Peeps offered brand-consistent messages such as "Inside We're all the Same" on t-shirts and other merchandise. "Peeps can be differentiated to make people feel special," says Bob Traub, principal at Peeps agency Brand Activation Consulting, who reports royalties from the brand have tripled in three years.
One component of Sesame Street's 50th anniversary celebration next year will be a consumer-facing campaign called "This is My Street," which sends Big Bird out to see the world and supports a curriculum about understanding differences and coming together.
Cartoon Network teamed with Unilever in a two-year project in which its character Steven Universe and creator Rebecca Sugar will be the face of the Dove Self Esteem Project, meant to empower those who feel different from the ideal or the norm. The program involves public service announcements, events, and other elements.
Meanwhile, diversity was reflected in the properties on display and in discussion at the show, from black characters starring in entertainment/character properties such as Centa IP's Motown Magic and Nickelodeon's Nella the Princess Knight, to Barbie and Random House featuring a curvy ballerina on the cover of the licensed book The Perfect Spin as part of Barbie's diversity initiative.
Hispanic consumers and culture were prominent in a raft of properties from Albert Whitman's Zapato Power to One Entertainment's range of celebrity, television, and sports properties, to the Elf on the Shelf-like book-and-toy brand Lupita. This trend is not new, of course, but this year's Expo seemed to feature more properties in a bigger way than ever before.
Girl Power Redux
Girl empowerment was a theme again this year in conversations with licensors and licensees. One example: Among Scholastic's new Harry Potter books is Witches Rule: A Guide to Girl Power in the Wizarding World, which focuses on Hermione, her powers, and her connections to other women and their powers, in both the worlds of Harry Potter and Fantastic Beasts.
While girl-powered superhero properties such as Miraculous and Mysticons were still on display, many of the female empowerment properties this year were rooted in everyday reality, even as they were connected to fictional characters. Mattel's Barbie continues her focus on empowerment, for example; her "You Can Be Anything" motto was notably promoted.
The Roald Dahl estate and its North American agent BAC are planning to focus on Matilda as their hero character in 2019. While not driven by the girl power trend, the estate is conscious of the property's relevance. "We won't be banging the feminist drum, but it's a good time to focus on Matilda," says Bernie Hall, the estate's marketing director.
In some cases, the female empowerment trend is captured in phrases and imagery. Random House's adult publishing division was highlighting a collection of images and patterns inspired by Rachel Ignotofsky's Women in Science: 50 Fearless Pioneers Who Changed the World. The collection is billed as empowering girls and women to follow their dreams and passions, and to spread the message about scientific literacy and education. Other licensors were offering girl-power phrases and imagery in licensing programs for all ages.
In another possible reaction to world events, there also seemed to be a slight surge in properties that focused on kindness and caring, from Mattel's Enchantimals to CraneKahn's Mofy.
Other Observations
Many of the observeable trends at Licensing Expo this year have been ongoing for some time. There was news of experiential initiatives and lots of collaborations in the form of limited editions and capsule collections.
As The Joester Loria Group's executive VP and COO Joanne Loria points out, limited editions and capsules give licensors retail placement and media value in the thousands of dollars (measured in cost per thousand impressions), "but you can't measure it in royalties." That is true of many of the deals touted at the Expo these days, creating challenges for licensors and agents alike.
Co-branding and crossovers continue to be common, with the pairings ever more disparate. Angry Birds has recently partnered with Iron Maiden, while Rick & Morty teamed with Dungeons & Dragons in a crossover comic from the properties' respective licensees, Ony Press and IDW.
Considering the high interest in e-sports within the licensing community over the past couple of years, and the prominence of video game companies at the show, licensing programs tied to e-sports still have a relatively low profile. That said, Beanstalk announced just before the Expo that its Tinderbox division is representing ESL, a leading e-sports event producer whose flagship contests include ESL One, Pro League, and Intel Extreme Masters. And Activision Blizzard exhibited a wall of city-based team apparel that is part of its licensing program for the Overwatch League. It also has licensing initiatives for the Call of Duty World League and MLG Network and is looking to expand those ventures beyond clothing.
Other continuing but still notable trends:
Collectible toy brands remain viable for now, as more examples (e.g. Cupcake Surprise at Global Icons and Soft'n Slo Squishies at Nelvana) enter the world of licensing.
Influencers are gaining ever more traction, with examples including comedians Shane Dawson, repped by UTA, and Jake Paul, handled by Brand Central, and young unboxing stars Ryan of Ryan ToysReview and HobbyKids, both licensed by their content distributor Pocket.watch. Not only is influencers' profile growing in terms of sheer numbers, but they are expanding the reach of their licensing programs as well.
Retro gaming properties and bitmapped artwork also seem to still be on the upswing.
The art section of the Expo was notably smaller this year, with fewer artists and agents—even longtime exhibitors such as MHS Licensing—absent. This was the second year that Licensing Expo overlapped with the Surtex art licensing and surface design show in New York. Next year Licensing Expo reverts to a June timeframe (June 3-5), while Surtex moves from its traditional May slot to February 3-5, thus eliminating the conflict between the two. It remains to be seen whether artists will return to doing both shows.
Licensing International Expo 2017:
The Promise and Challenge of Digital Distribution
The rise of licensable properties with roots in digital media has been swift, a fact underlined by the properties on display at the 2017 edition of Licensing International Expo. It was just in 2010 that Angry Birds became what is widely credited as the first mass licensing success story emanating from the digital realm. And the landscape has been transformed in the seven years since.
While the sheer number of digitally driven properties available for licensing—along with the quick transition of the business in this direction—is notable, it is not surprising given the state of consumer entertainment consumption and retail trends.
Digital platforms offer lower barriers to entry for new properties. Consumers in the coveted millennial market, and younger, tend to spend an inordinate amount of time in the world of social media and other channels. And the fragmentation of traditional media, among other factors, has made it more difficult to succeed by taking the historically proven path.
That said, few IPs originating in social media, streaming media, mobile apps, or other digital channels have rivaled traditional media properties in their level of success to date (as measured in total dollars). As a result, some potential licensees are still skeptical about securing rights to digital-only properties.
For the most part, however, licensees and retailers are increasingly willing to tie in with digital-origin properties in a big way. And they more often view them not just as niche opportunities, but as having potential at mass retail.
Social Media as Launch Pad
These days, for every Property Brothers (at the Scott Living booth) or Chloe Lukaniak of Dance Moms (at Brand Central), both of whom have gained fame through traditional media, there is a social media celebrity such as LaurDIY (also Brand Central) following them into licensing.
As a case in point of how mainstream such celebrities can be, Nickelodeon was highlighting its licensing program for JoJo Siwa—a 14-year-old YouTube influencer, singer, and dancer who first began appearing on Nickelodeon last fall—in English-speaking markets around the globe. The launch involved 30-some licensees, including Danskin and Just Toys, rivaling the scope of any traditional TV-driven licensing program for the same demographic group.
Other digitally driven property types generating interest at the Expo included:
• Characters gone viral. Sanrio's Gudetama ("the lazy egg") has gained exposure through short videos that have taken off online in Asia and abroad. The character has the largest Twitter following of any Sanrio property, including Hello Kitty, and has generated 150 million total social media impressions since being introduced in North America in 2015. It has been featured in collaborations with New Era, Tokidoki, Forever 21, and Funko.
• Brands born in social media and apps. Musical.ly, at the Brand Central stand, and Buzzfeed were two new examples on the show floor in 2017. (Celebrities established through Musical.ly have also been signing agents to handle their commercial activities of late.)
• Properties with user-generated content as a part of their DNA. StikBot from Zing toys is a suction-cupped action figure that comes with a simple animation app that enables the creation of animated stop-motion videos. It has been accumulating views, YouTube subscriptions, user-created animation uploads, and sales at a significant pace. The property, licensed by The Joester Loria Group, joins other UGC-driven properties entering licensing, such as Roblox, which signed a toy deal with Jazwares earlier this year.
• Mobile gaming apps. Although the days of seeking "the next Angry Birds" have largely passed, mobile gaming apps continue to rack up licensing successes on a narrower scale, focused on their core consumer base. Slither.io, licensed by Tie In Pro, entered the mobile space after launching as an online game and has signed licensees for toys, t-shirts, stickers, and more, for example.
One of the benefits of digital-origin properties is their propensity to become viral without a push from the marketer, an ideal situation for creating consumer demand for merchandise. That has happened with Slither.io, which has seen its early placements of collectibles from Bonkers Toys sell out at Target and Walmart. "It's all been completely organic," says Lisa Berlin, founder of Tie In Pro. "Eight-year-old boys love it, and hundreds of YouTube gamers have embraced it."
The Speedy Rise of Streaming
Three years ago, licensees and retailers were leery of tying in with streaming properties, which were just starting to emerge at Licensing Expo 2014, following the release of the first Netflix Originals in 2013. In 2015, most of the licensing action was focused on streamed entertainment based on franchise content, while 2016 marked the start of a handful of limited deals, mainly for toys and books, tied to streaming originals without franchise roots.
This year, streamed entertainment properties available for licensing, both new and franchise-based, have proliferated—especially on Netflix—and their associated licensing efforts are starting to grow beyond a few core categories (although their level of success is yet to be determined). In addition to individual licensors, some of the leading streaming platforms that finance original properties, including Amazon Studios, have hired licensing executives and were exhibiting at the show.
Examples of streaming properties available for licensing run the gamut from Viz's Death Note, an anime for older viewers, to American Greetings' Buddy Thunderstruck, for tweens and teens, to Dreamworks/Universal's Spirit Riding Free for kids 5-7, to Pete the Cat, licensed by Merrymakers, for preschoolers.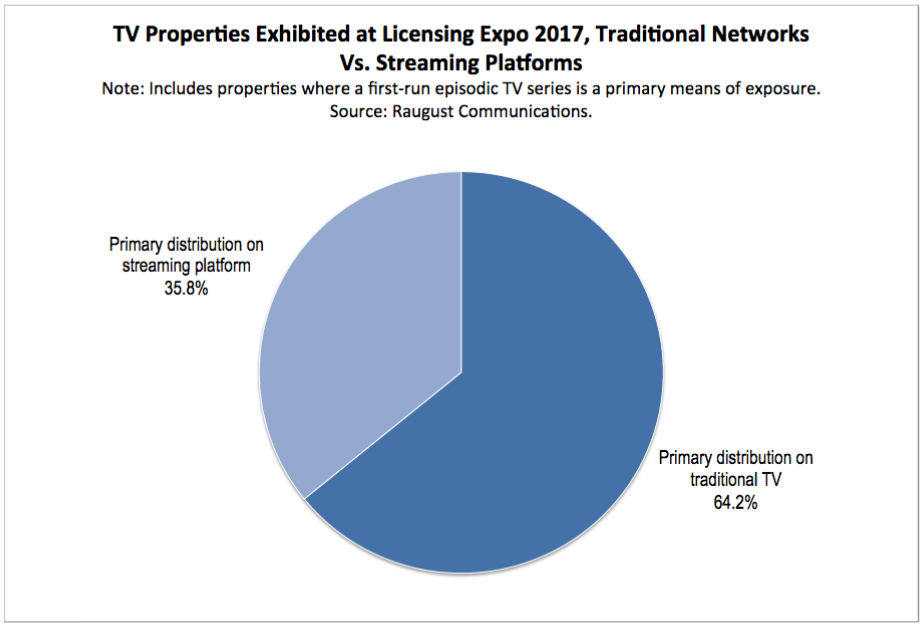 Some attendees expressed skepticism about tying in with Netflix-distributed or other streaming properties for kids. One reason cited, along with low assumed viewership numbers compared to traditional TV, is that kids binge-watch, just like adults do. This jumpstarts demand but also creates a risk that viewers will age out of a property, or otherwise move on, before Season 2 debuts.
Finding the Right Balance
The best situation for licensing is when a property is able to mine both digital and traditional channels for marketing, content distribution, and product sales. In a fragmented environment, licensors and their licensees know that they need to be in all relevant channels.
Sesame Workshop's fortunes over the past year show how all digital and traditional platforms work together. The company signed a deal to distribute a shorter and more core character-focused version of Sesame Street through HBO in 2015. Starting in 2016, HBO became the first-run partner, with PBS airing new episodes later.
"Either despite or because of the HBO deal, metrics are up and engagement is up," said Scott Chambers, SVP/GM, North America Media and Licensing. He notes that not only are TV ratings rising on both HBO and PBS, but time spent viewing the show is up 35%. The Sesame Studios YouTube channel generated 1 billion views on YouTube in 2016, with 4.6 billion minutes watched; Sesame Place had its best opening in three years; and the Big Bird Snapchat filter had more than 309 million impressions, to name a few stats. "We're starting to get feedback from our licensees that there's a positive impact on their businesses," Chambers says.
He believes these results are attributable to several factors. HBO's marketing expertise and reputation for quality content, the fine-tuning of the show, and the fact that PBS remains supportive all contribute. Strong social media usage across all the key platforms helps with exposure, as do deals with Netflix and Sprout. High-profile partnerships with the likes of IBM/Watson and marketing initiatives such as Cookie Monster's TV commercial for Apple's Siri also play a role. "And we have another 150 partners that do a great job," he says.
Even as mass properties need exposure and sales across digital and physical platforms and channels, it is also worthwhile to remember that the nature of licensing these days is largely about successful programs being singles and doubles, each aimed at a different slice of consumers. While there is always the possibility of a property like Frozen breaking through, in general the fragmentation of the business means success is measured differently than in the past.
A Question of Timing
Timing is, of course, always an issue with the launch of a licensed property, and never more so than now, as social media and other factors cause demand to spike early but also fall off quickly.
Cole Gahagan, Chief Commercial Officer of Fanatics, who gave the opening keynote address at the Expo, stressed the need for companies to meet "hot markets" opportunities that arise. When the University of Miami Hurricanes football team won a game by means of a return involving eight lateral passes in the last six seconds of a 2015 game, Fanatics, which is involved not only in ecommerce but manufacturing, was able to offer t-shirts commemorating "The Return" by the end of the same week.
As one indication of the immediacy of merchandise demand during key sports events, Gahagan reports that 80% of all Fanatics orders during championship games come via mobile phones, versus 50% for Fanatics orders overall and just over 30% for etail/retail at large.
A "hot markets" mentality is important beyond sports as well. When an episode of Cartoon Network's Rick and Morty mentioned a 1998 limited-edition Szechuan sauce (a Mulan promotional product) available at McDonald's, fans immediately contacted the QSR requesting the item's reintroduction and old packets started going for significant amounts on the secondary market. Pete Yoder, VP Cartoon Enterprises North America, said the situation led the network to fast-print t-shirts with Szechuan sauce-related designs to satisfy fan demand.
Of course, finding the balance between satisfying short-term or early demand and coming out too early is an age-old problem, and it exists for traditional as well as digital properties. In its licensing event the day before the Expo opened, executives from Level 5 Abby noted that the Yo-kai Watch Nintendo DS game and TV series have performed all around the world, and Hasbro's toys and other licensed consumer products have sold well in Asia, Europe, and Latin America. But merchandise has struggled to find a foothold in English-speaking markets.
"It needed a little bit longer for the story to get told," said Simon Waldron, Level 5 Abby's SVP Marketing and Licensing. "The expectation from day one was so high, because it had been so hot in Japan. We tried to do too much too soon." Waldron notes that Hasbro remains committed to the property, and the company plans to continue to release new content as it reevaluates its licensing direction in the U.S./Canada, U.K., and Australia/New Zealand. "We're at the point where the course has to change," he says. "We'll let the current merchandise work its way through and then look at categories where we can introduce new ideas, and figure out where we can have success on a smaller scale to start with. At this point it's about keeping an open mind."
Other Observations from the Expo
Aside from all things digital, the show underlined a number of licensing developments that have been ongoing for some time:
• More properties and products are coming into the preschool space, despite the crowded market. Even with the intense competition, the potential for properties geared to the youngest consumers is relatively strong compared to those for other demographic groups, many executives believe, and such properties cross borders relatively easily.
• Girl power continues to be a key theme in the entertainment space, both with ongoing and new properties. In some cases, licensors are touting female characters among a group of equals and sometimes a smart or strong girl in a sole starring role.
• Collectibles, not surprisingly, were visible at the Expo, with both licensors of collectibles brands and collectibles licensees overseeing exhibits. Funko, one of the biggest—and still expanding—players, had a large booth presence this year. There does not seem to be a consensus about whether any of the newer collectibles-based brands will follow in the footsteps of Shopkins in terms of licensing success.
• Interactive gaming properties, from console games (e.g., Activision's Call of Duty) to mobile apps (Zeptolab UK's Cut the Rope) to retro games and brands (Intellivision at Licensing Works!), were abundant across the show floor as usual. One indicator of the growing synergies among games for all platforms was the Activision Blizzard King booth, the first time this recently consolidated entity exhibited as one unit.
• The space devoted to Asian character/entertainment licensors continues to expand, in part through efforts by show organizer UBM and in part due to financing by governments interested in giving their homegrown IP an international stage. Relatively few have made significant incursions into the U.S. market, although more are securing U.S. agents or other partners.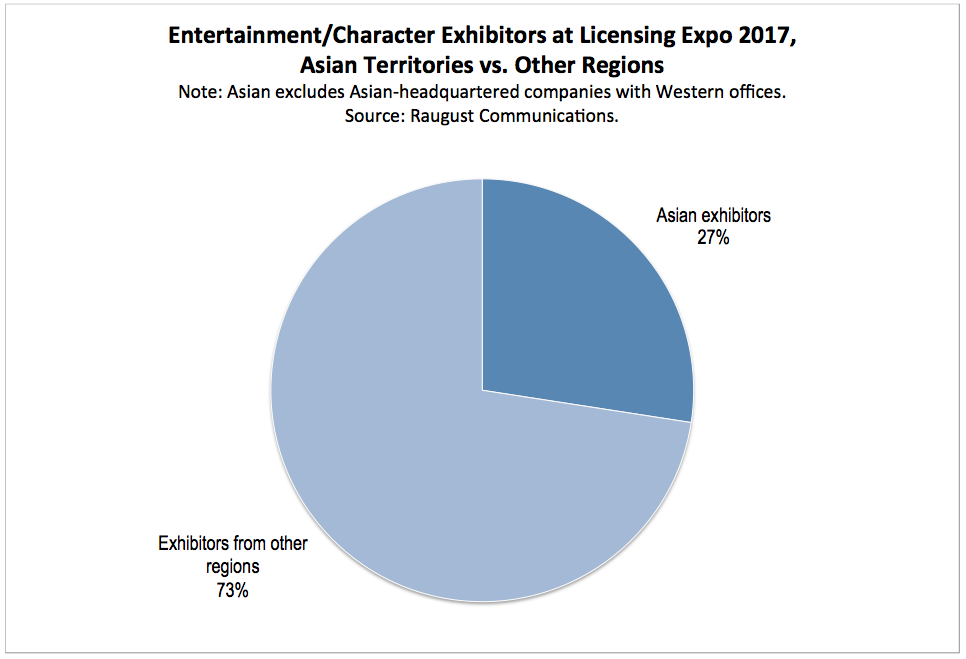 In part due to the expansion of the Asian and other international exhibitors, the Expo has become ever more entertainment/character-driven over the years, although all the other property types are present to various degrees, with celebrity and corporate licensing particularly well represented.
Check RaugustReports for more insights from Licensing Expo and other licensing trends.