Raugust Communications publishes books and reports on the licensing business, written by Karen Raugust. Titles include research reports, how-to topics, and licensing trends and issues; the focus is on filling the white space in the market for licensing information by addressing topics not covered in depth by other resources. To purchase, just click on the "Buy" buttons at the end of each description.
RaugustReports Presents:
15 Licensing Super Trends for 2015 and Beyond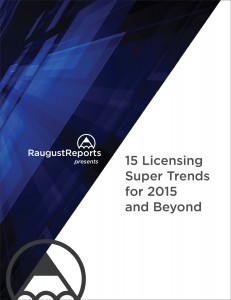 In the context of today's ever-evolving licensing landscape, how can members of the licensing community position themselves for continued success? RaugustReports Presents: 15 Licensing Super Trends for 2015 and Beyond examines 15 overriding trends that will endure for the foreseeable future, as well as 70 shorter-term developments that reflect and support the super trends. Authored by Karen Raugust, the report offers a snapshot of the licensing business as it stands in early 2015, and serves as a blueprint to help guide licensing executives as they face the future.
The Super Trends include:
1. Technology: The Only Constant is Change
2. Need for Speed
3. Function First
4. A Top Priority: To Engage and Entertain
5. Telling a Story
6. Doing Well by Doing Good
7. Power of Two
8. Artistic Flair
9. Changing Nature of Celebrity
10. Beyond Licensing: Changing Business Models
11. Retail: A Need for New Niches
12. Dipping a Toe Before Taking a Deep Dive
13. Branding Boost
14. No More Middle
15. Evolution, Not Revolution
Price: $39.95.
To order a print edition via Amazon.com, click below:
Buy print edition
To order a PDF edition, click below:
Buy PDF EDITION
You will receive the PDF via email with 24 hours.
The Licensing Business Handbook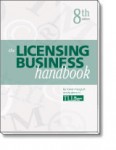 The Licensing Business Handbook is the original and best-reviewed how-to book on the ins and outs of licensing. After taking over publishing rights from the former distributor, Raugust Communications plans to release an all-new 9th edition later this year. If you need a copy of the 8th edition in the meantime, it is available here (PDF only).
The new revision of the Handbook—which celebrated its 20th anniversary in 2015—will feature substantial changes to reflect the evolution of the licensing business since the first edition in 1995. It will continue to guide licensors, licensees, licensing agents, and other licensing participants step-by-step through the licensing process from beginning to end, providing detailed information on payment structures, contracts, intellectual property protection, strategic considerations, and much more.
The Licensing Business Handbook, by Karen Raugust, has long served as a valuable reference for novices and experts alike, as a textbook for licensing courses, and as an introduction to licensing for new employees or top management.