Raugust Communications publishes books and reports on the licensing business, written by Karen Raugust. Titles include research reports, how-to topics, and licensing trends and issues; the focus is on filling the white space in the market for licensing information by addressing topics not covered in depth by other resources. To purchase, just click on the "Buy" buttons or links at the end of each description.
15 Licensing Super Trends for 2020 and Beyond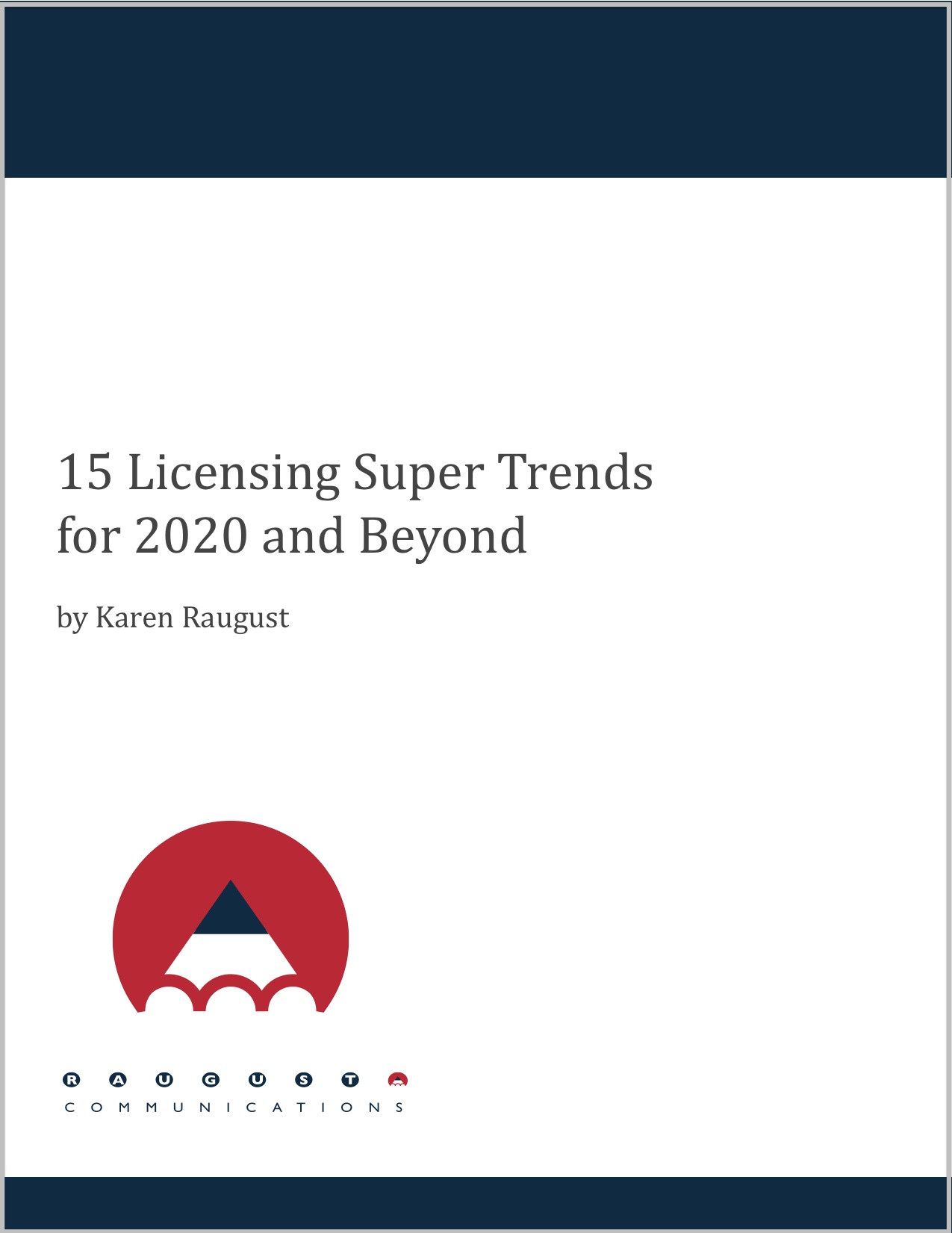 In the context of today's ever-evolving licensing and consumer products landscape, how can members of the licensing community position themselves for continued success? 15 Licensing Super Trends for 2020 and Beyond examines 15 overriding trends that will endure for the foreseeable future, as well as 56 shorter-term developments that reflect and support the super trends. Authored by Karen Raugust, the 114-page report, which features 42 exhibits, offers a roadmap for navigating the challenging licensing terrain ahead.
Price $49.95.
For more information, including a table of contents and the book's introduction, click here.
To order a PDF edition, click here. You will receive the PDF via email with 24 hours.
The Licensing Agency Benchmarking Report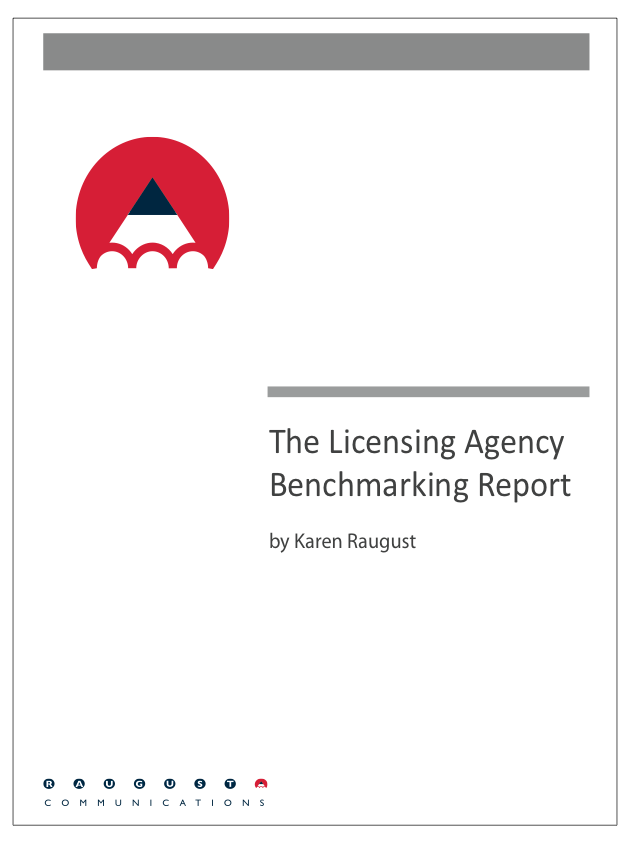 Long-term and far-reaching shifts in the licensing business have had a significant impact on the licensing agents that represent and manage consumer products activities tied to their clients' intellectual properties. These changes have led agents to reassess their business models, the services they offer, how they are paid, and many other aspects of their trade. And all of this is occurring in an environment that is more competitive than ever.
The Licensing Agency Benchmarking Report summarizes these changes. It is the first research study to offer numerical data on the global licensing agency business, compiled through original research conducted specifically for this project. The 75-page report is intended to help licensing agencies position and differentiate themselves within the greater agency landscape and arm themselves with data to help sway potential clients in pitch meetings. It also serves to educate licensors on the current status of the agency business to help them make a sound decision about agency representation.
Price: $159.99.
Read the full introduction and executive summary here.
Purchase the report in PDF form here. (Ships within 24 hours.) A print edition will be available soon.
The Licensing Business Handbook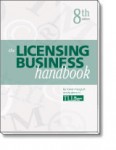 The Licensing Business Handbook is the original and best-reviewed how-to book on the ins and outs of licensing. After taking over publishing rights from the former distributor, Raugust Communications plans to release an all-new 9th edition later this year. If you need a copy of the 8th edition in the meantime, it is available here (PDF only).
The new revision of the Handbook—which celebrated its 20th anniversary in 2015—will feature substantial changes to reflect the evolution of the licensing business since the first edition in 1995. It will continue to guide licensors, licensees, licensing agents, and other licensing participants step-by-step through the licensing process from beginning to end, providing detailed information on payment structures, contracts, intellectual property protection, strategic considerations, and much more.
The Licensing Business Handbook, by Karen Raugust, has long served as a valuable reference for novices and experts alike, as a textbook for licensing courses, and as an introduction to licensing for new employees or top management.